Frequently, e-mails show up in my inbox requesting pointers on how to hand embroider text or lettering. Here are a few of the questions on this subject that have shown up in the last couple years:
What stitches should I use to embroider a name?
I'm hand embroidering a poem on a quilt. What type of lettering should I use and how do I stitch it?
How many strands of thread should I use to embroider text on a baby blanket?
I want to hand embroider a baseball cap but I don't know what stitches to use. Can you help me?
I'm using stem stitch to embroider a poem, but my stem stitch looks bad especially when I go around corners. Any ideas how I can fix it?
To answer all these questions and more, I've developed a plan…
… and I plan to work on the plan over this weekend. In the upcoming weeks here on Needle 'n Thread, I'll be presenting some short tutorials on embroidering lettering or text by hand.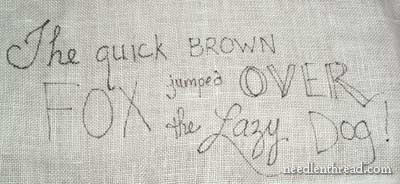 Not to be confused with stitching monograms, embroidering text or lettering – especially multiple words – so that it looks good and is clear to read can be daunting. I want to address the subject so that beginners especially can get the hang of hand embroidered lettering without suffering too much grief along the way.
Do you have any questions about the subject that you would like to see particularly addressed? If so, now's your opportunity to bring them up, so I can address them in the tutorials!
If you've embroidered lettering before, I'd love to know what your favorite stitch is for lettering!
What do you think? Will this be a worth-while series of short tutorials? Any thoughts or suggestions?