For the next word on my hand embroidered lettering sampler, I'm using a wonderful silk by Treenway Silk out of Canada, and I'm revisiting the whipped backstitch for the letters, because I like the resulting chunky-twistiness of it when worked with this silk.
In the fifth lesson of this series of tutorials on hand embroidered lettering, I addressed the whipped backstitch for producing a fine, tiny line for little letters. If you change your thread to something a bit heavier, though, you can change the look of the whipped backstitch considerably!
Treenway silk "cord" (I don't know why they call it that) is similar to about a #8 pearl cotton. It reminds me a lot of some silk buttonhole twists, but I think it actually may be slightly heavier, and perhaps slightly softer in its twist.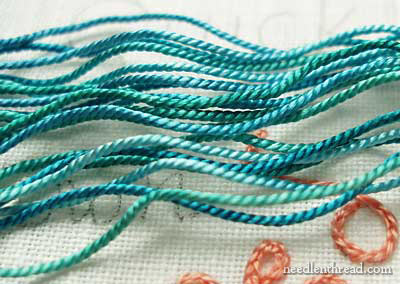 Anyway, whatever the case, it's a beautiful thread. It's a bit boingy, though, so you might straighten it before stitching. I like to do this over the spout of a whistling tea kettle. Just hold the silk in both hands, pulling slightly, and move it back and forth in the steam. It'll relax the kinks almost immediately. As far as "kinks" go, though, this thread isn't too bad – if you don't do anything to it to help it relax, you can solve any twisting problems as you stitch by letting your needle dangle so the thread can untwist itself. None of this is said to intimidate you from trying this thread, though – like I said, it's a beautiful thread!
I'm working on the large "Quick" on the top right corner of the sampler. I wanted to use a thread that's somewhat dark, since this is the boundary of the piece. Since the letters are large, and since this thread is a somewhat heavier thread, the whipped backstitch makes a nice bold letter here. And I like the way the thread twists and untwists with the stitch. I like the very-slightly-wiggly-look.
To keep your thread twisting in the same direction, you might have to turn your hoop and work upside down now and then. All of this is explained in Lesson 5 of this series of tutorials. You can also read my notes about the importance of stitch direction with whipped stitches, if you are curious about stitch direction.
There's a little nubby thing going on with the U there, and I'll probably have to pick that out. With thicker threads, it's sometimes difficult to join the intersections in the letters smoothly. But I didn't notice that, really, until just now!
And here's the sampler so far!
If you're looking for Treenway Silk, you can find it at Nordic Needle, where you'll find the thread accompanied by gorgeous overdyed silk ribbon that matches the various colors. Well, you already know I'm a sucker for threads – but when I see this beautiful thread paired with its ribbon counterpart, I melt! It is Really Pretty.
If you're looking for more tutorials on hand embroidered lettering and text, you can visit the index for this series of tutorials, where you'll find all 12 previous articles on the topic, full of step-by-step directions on how to write with your needle and thread!