Carol DuVall recently finished a gorgeous heirloom Christening set for a best friend's daughter's new baby! The dress, slip, bonnet, storage bag, and hanger testify not only to Carol's attention to detail, but more importantly, to the love that went into making making this fabulous treasure!
We'll begin with a full-length view of the gown. Made from Bear Threads Swill batiste, the dress is adorned with French and French Maline laces. The embroidery is mostly worked in Splendor silk, and is accented with pearls and Swarovski crystals.
Carol used a lace-to-lace technique to create the bodice, and she inserted lace into the body of the gown, marking off areas of pin tucking.
The bodice is beautifully smocked! The bullion roses are stunning, and the pearls and crystals add an elegant touch.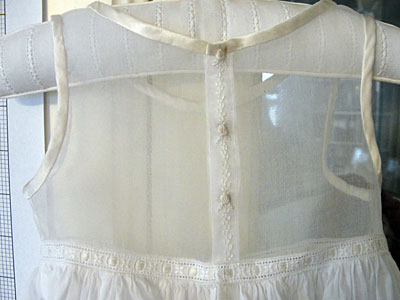 The slip bodice is made out of a sheer cotton organza. Notice the feather stitching and the bullion roses! Beautiful details!
Speaking of details, on the slip, Carol embroidered the name and birthdate of the baby, along with the names of the parents, in a heart-shaped wreath of flowers. The photo is somewhat difficult to see – it's never easy to photograph whitework – but you can see enough to understand the detail and care that went into this (and it's the slip!)
The bonnet is … wow! Unbelievable! I love the smocked netting and the pearls and crystals, but it's that wreath of bullion roses at the back of the bonnet that I find most enchanting.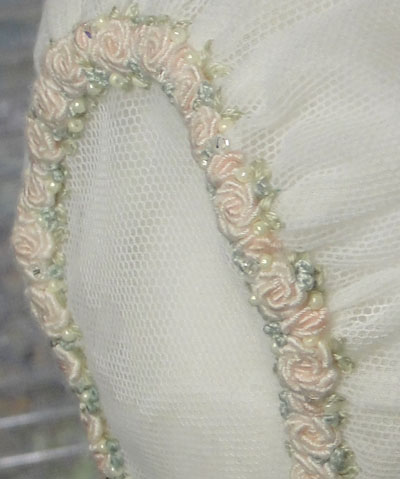 First of all, the bullions are fantastic – I love how the roses nestle up to each other. And the little pearls sprinkled here and there among the roses are a perfect touch.
To finish off the set, Carol made a matching padded hanger for it, with a pretty ribbon-wrapped hook, and a storage bag. On the outside of the storage bag, she fitted a pocket made of silk organza on which she printed a photo of little Kate and all the little details of her birth. Ingenious!
Do you agree with me that this is absolutely stunning? What a work of art, and what a work of love!
Thanks, Carol, for letting me share your masterpiece with readers here on Needle 'n Thread! It's exquisite! I hope everyone else finds it as inspiring as I do!
If you're interested in sharing your needlework with readers on Needle 'n Thread, feel free to drop me a line, and I'll send you an e-mail address. It's always nice to see what other stitching folk out there are up to – and a great way to get the creative juices flowing for the rest of us!