Chats on Old Lace and Needlework by Emily Leigh Lowes was first published in 1908. The book is just as its title describes – chats on old lace and needlework. It is a book arranged in chapters, discussing various types of lace and needlework.
Because the book is old, it's not filled with gorgeous colored photos of museum pieces. Still, its value is in the written content and even – yes – the black and white photos.
I tend to get used to colored photos, and find myself often passing completely on exploring a book when the photos are black and white. I have to remind myself that, like black and white movies, black and white photos can be just as artistic and just as well done as colored photos. They can tell a story, too, after all. I suppose this isn't always the case with the black and white photos in old books (because some can be rather poor quality!), but I think it's silly to disregard a book simply because the photos aren't in color.
(At the same time, admittedly, I prefer colored photos, especially of needlework!)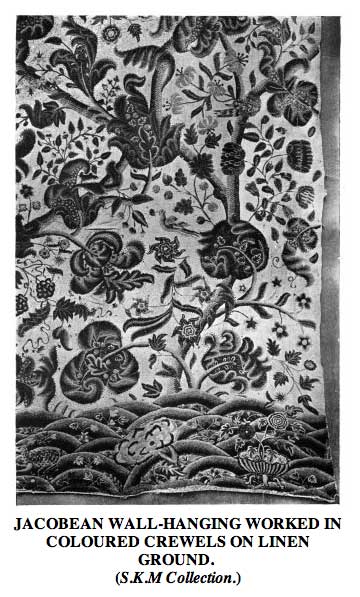 I like this Jacobean piece featured in the book. When you start looking at it closely, you start to notice things – like the squiggly lines on the left, about a third of the way up behind some of the leaves and flowers there. They aren't anywhere else. Or the pot of flowers in the lower right hand corner, resting on one of the hills – a somewhat strange place to rest a pot of flowers.
The book addresses the history of lace (mostly in England, or having to do with England somehow) and the history of English embroidery in small, manageable chunks of texts (hence, the "Chats" part of the title). It's interesting to read, but not long enough to be a dry historical discourse.
If you'd like to take a look at the book, you'll find Chats on Old Lace and Needlework on Project Gutenberg.
Enjoy!