Yesterday, I reviewed The New Crewel by Katherine Shaughnessy – and today, I'm giving away a copy! Wouldn't you like your own copy of this fun little book on contemporary crewel embroidery? If you do, read on!
The New Crewel is a great little embroidery book that focuses on contemporary embroidery. It's full of little (sometimes, tiny) crewel embroidery projects that are modern and kind of swanky, some a bit funky, but all rather fun.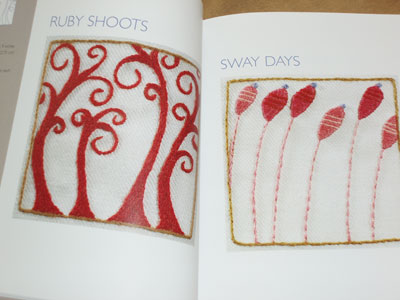 It's true that the designs may not cater to everyone's embroidery tastes, but I think it's a neat book for those who like a minimalist, modern look. It would make a great gift, or a good project book for your own bookshelf.
If you'd like to win your own copy, here's your chance!
Please read the following rules for the give-away:
1. The give-away is open to everyone, anywhere. If the winner lives outside the US, I'll ship it using the least-expensive air mail option.
2. To enter, you must leave a comment on this post, on the website. Please do not respond by e-mail, and please do not leave entries on other posts on the website. You'll find a "click to comment" link at the end of this post, on the website.
3. In your comment, answer the following question:
What do you like best about this book?
4. Please make sure you leave a name in your comment, even if you comment anonymously, so that I can announce the winner by name.
5. Entries will be taken until 5:00 AM (CST) Monday, April 19th. I'll announce the winner on Monday, and the winner will need to contact me with mailing information.
And that's it!
Best of luck!