After finishing the goldwork pomegranate, I moved on to my Blackwork Fish, a project that is not truly blackwork the way we think of it today. Today, blackwork has become synonymous with a counted thread technique – not counted cross stitch, because it is mostly Holbein stitch, but like counted cross stitch in that it involves following a charted design. Blackwork today features mostly elaborate and lacy filling designs worked on the grid of an even-weave fabric, and not necessarily worked in black, either. So this isn't necessarily the type of blackwork I'm talking about here – I'm using the term specifically because I'm using all black threads.
The last time we visited my Blackwork Fish, he hadn't progressed too far. He was still rather a hazy idea, overall. I wasn't sure if my experiment would work out!
This is what I'm doing, though. I doodled this guy a while ago – you can check out a larger version of my Doodled Fish on Flickr – and then I got it into my head that it might be a neat challenge to try to reproduce something similar in embroidery. So, using 40 count linen and a variety of weights of black silk thread, I set out to do that.
Last time we looked at the fish, this is where I was.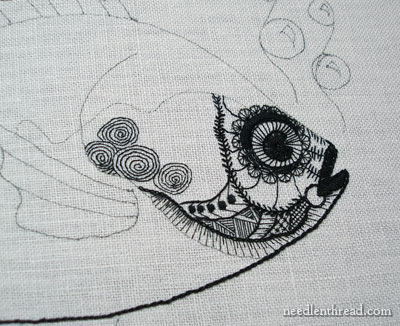 And a little bit of stitching brought me to this next point.
My plan is that the various weights of the black threads – from as light as a cobweb, practically, to about the thickness of a #8 pearl cotton – will provide much of the contrast in the piece, while the stitches chosen will do the rest of the job.
Most of the time, the stitching is completely random. There are some lines drawn on the fabric, marking the overall design, and occasionally, if I want to be certain that I have equal or even lines, I will mark in something with a tiny black pen. But for the most part, I'm not marking anything as I go. I'm just filling with whatever comes to mind, but still using the doodled fish as a guideline or idea-board here and there.
This section of spirals is stitched in backstitch, working from the center of the spiral out, and eyeballing the route of the spiral. You can see that each spiral is not "perfect" – the distance between the lines is not necessarily even, the shape is not necessarily perfectly round – but all that is quite ok with me, as I think it adds to the look I want to achieve with this piece.
You can see below the fin on the fish, I sketched in a couple wavy lines. In fact, I also drew in that scalloped vertical line before I stitched it – for me, it's hard to stitch scallops evenly, and I wanted these to be even.
So that's my progress on the fish so far. I think he's looking a bit startled, personally.
What I like about this project:
1. I can play with types of stitches and pretty much be guaranteed that I won't ruin the piece.
2. As I parcel the fish up, each little bit offers the opportunity for variety – I don't think I'm going to get bored with the stitching itself.
3. I like the look of it.
4. I like the challenge of deciding on a filling technique, or a stitch to use, etc.
What I like less about it:
1. Why on earth am I stitching a fish? Whatever am I going to do with this thing?
2. Working only with black may become a bit dull – but I don't know about that, yet. So far, it hasn't.
3. Sometimes, I sit and stare for quite a while before deciding what to actually stitch. I scratch my head. I wonder. I start to take a stitch. I stop. I think….. and this can become rather annoying.
But the pros outweigh the cons – I like the project so far, and I'm actually pretty eager to make progress on it, to see if it'll turn out as I imagine it.
So what think you? Do you think this is a weird project, not worth the time it'll take? Do you like the idea? Is it something you would try? Are you eager to see an outcome, or does the piece strike you as dark and oddly ugly? See, I'm not sure what to make of it yet, either!
Tags