In reading through the catalog Embroidery Lessons with Color Studies (the Brainerd & Armstrong booklet on silk embroidery published in 1899, that I wrote about last week), I came across a little paragraph thate emphasizes the care of the embroiderer's hands.
Given the increasing popularity of silk thread for hand embroidery, and understanding that sometimes embroiderers are put off by silk threads because some of them can be extra-snaggy and cantankerous, I thought I'd share the little blurb in this old book – a little blurb that reads somewhat antiquated, but that's still relevant today. I'll also point you in the direction of my recipe for smooth hands for stitching with silk.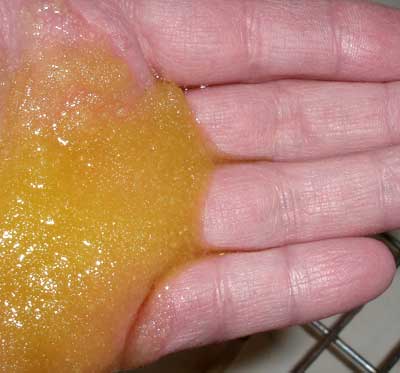 From Brainerd & Armstrong, here's their encouragement to watch out for your hands:
If the embroidery silk does not work smoothly and looks rough on the linen, the embroiderer's hands or her needle may be at fault. In every case, the difficulty is pretty sure to be attributed to a fault in the silk or needle, because everyone is more ready to find a defect in some external object than in themselves, and this makes it most pertinent to draw special attention to the fact that an embroiderer should take care of her hands, to keep them as smooth and soft as possible.
I'll be frank: I only think about hand care when I'm working with silk, and especially with filament silk. My hand-care recipe is pretty simple: olive oil and sugar. When I wrote about this, I received some good feedback in the comments area of the post, if you want to read further on the subject.
Aside from the olive oil & sugar treatment, I use lotion on my hands whenever they feel dry, but I always wash away any residue before I pick up my stitching again.
So, what do you do to care for your hands? Do you make an effort to do anything different because you embroider? Leave a comment and share your tips!