At the dawn of the 1900's, the companies that manufactured embroidery silk (known as filo and floss silks) published little manuals of instruction in hand embroidery that were also meant to be marketing tools.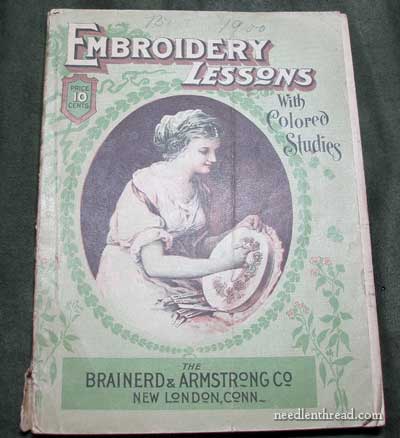 One such company was the Brainerd & Armstrong Company out of New London, Connecticut. In 1899, they published a 140+ page instructional booklet called Embroidery Lessons with Colored Studies. It's a fantastic little piece of embroidery history, focusing on Society (or Art) Silk Embroidery. I happen to have a copy of it, and when thumbing through it the other day, I found myself here and there chuckling, often nodding in agreement, and finally wondering why I hadn't read through the whole book before.
I've already mentioned a little bit about Society Silk here on Needle 'n Thread, so before showing you some tidbits from the book, I'll refer you to a few previous posts if you want to know more about the type and era of embroidery that this little book focuses on:
One thing that must be kept in mind – and don't worry, it will be! the publishers won't let you forget! – is that these little books were meant not just for instruction but also as catalogs for goods. The publishers were out to sell the embroiderer their silk (not any other!). Advertisements abound – chiefly for Brainderd & Armstrong needlework supplies. Aside from advertisements, there are other subtle marketing tricks that might convince the needleworker to use Brainerd & Armstrong silks. The Introductory Hints section of the book begins with this emphatic statement:
Good Silk is the First Requisite of Good Work
For this particular book, Good Silk = Brainerd & Armstrong Silk. And you're not allowed to forget this point as you learn your embroidery stitches! The instructional section on stitches ends with this emphatic statement:
Beware of Cheap Silks
Beware of the inferior silks which some dealers recommend (because they can make a larger profit if they can get anyone to buy them). Inferior silks run in washing and ruin your finished piece of embroidery. It is a waste of money to buy cheap, inferior silks. The safe way is to insist on having Brainerd & Armstrong's Wash Silks. See that the name Brainerd & Armstrong is on the tag of every skein of silk you use.
And there you have it!
The marketing is so blatant that today, we might find it humorous. But on the other hand, are they saying anything untrue? I've never used Brainerd & Armstrong silks, though I have some, and they are lusciously beautiful, so they've withstood the test of time very well. But what they say about thread choice is legit: why waste money on inferior threads? why risk ruining your work with threads that run? (Keep in mind that Society Silk decorated household linens that were meant to be washed.)
The book has an extensive stitch dictionary. Notice anything different about the stitch dictionary at the turn of the 1900's and the stitch dictionary of today? I was struck with the ratio of words to pictures – more words, fewer pictures. Today's stitch dictionaries are the inverse.
The color plates in the book are accompanied by instruction on how to accomplish the particular colors and shadings featured in the plates. I like this particular picture of various stems:
The purpose of the exercise is to practice all different ways that stems can be stitched to look realistic.
Aside from the stems exercise, the majority of the plates focus on bunches of flowers, and they're really very pretty!
This piece is titled "Fringed Gentian." The catalog is not really a project book in the proper sense. Today, we buy embroidery books that cover a specific technique – instructions, supplies, and so forth are all covered in the book, as well as multiple projects that include the designs. With Society Silk, the embroiderer would look at a catalog such as this and pick out the doily or tea cloth she wanted to embroider, which she would then order from the company and it would come pre-stamped with the flowers. In short, the designs aren't included in the catalog.
A bundle of beautiful cosmos, anyone? The silks used for this type of realistic needlepainting are really vibrant, beautiful silks, and the color range available was extensive. The embroiderer could achieve perfect and realistic shading on the flowers.
Here are some Society Silk wild roses. Now, if you wanted to come up with a similar design for embroidery from the plates in a catalog like this, you could do what Margaret Cobleigh did with her Silk Carnations. If you look at the embroidery pattern for the carnations, you can see what she did to make her pattern. Her finished carnations are beautiful!
The dandelion is not exactly my favorite growing thing in real life, but interpreted in embroidery, it's attractive. The puffs on this one are perfect.
And then, of course, there's the rose. The lower drooping rose in this piece is exquisite!
I hope you enjoyed this glimpse into embroidery of the past, specifically Society Silk. If you ever come across any of these old instructional catalogs, don't hesitate to pick them up! They make entertaining reading, and you're certain to glean a few excellent embroidery tips along the way!
For further reading on Society Silk on Needle 'n Thread, here are those links again: