If you want to make perfect French knots and perfect bullion knots, the only thing for it is to invest in the right needles. There aren't too many embroidery stitches out there that require a specific needle and, in truth, you can get away with making French knots with regular embroidery needles, and you can get away with making bullion knots with other needles, too. But if you shy away from French knots and you bolt at the thought of bullions, then maybe, just maybe, a different needle will help you overcome your fears.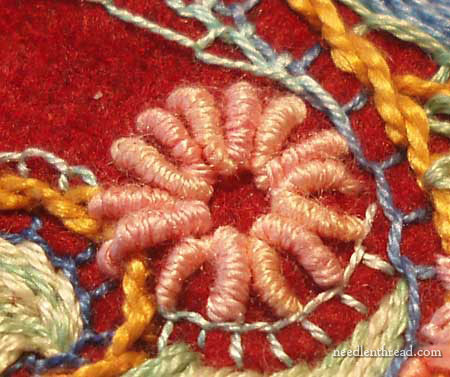 Just as in any art or craft, the right tools make the job of the embroiderer easier and more enjoyable. They also tend to result in better needlework. Needles are the essential tool of the embroiderer, so if you're serious about enjoying your needlework, it's worth taking the time to learn which kind of needle is used for which kind of embroidery.
One day when I was out fabric shopping with my sister, I found myself face-to-face with a notions wall in a quilt shop, and – lo! – there on the wall were hanging many tubes of needles. I was delighted, thrilled, and just pleased to the core to find a variety of sizes of straw needles, which are also known as milliners.
Straw needles, or milliners, are the ideal tool for perfect, easy French knots and bullions. If you're setting out to do a heap o' French knots or bullions in any upcoming project, you've just got to make sure you have a supply of these needles on hand!
The advantage of the straw needle is its shape. Unlike most needles, the straw needle doesn't bulge around the eye. The eye and the shaft of the needle are the same size all the way up. This means that, when you're pulling the needle through wraps of thread, the needle is going to slip much more easily through the wraps, without the eye getting hung up.
Straw needles are numbered just like embroidery needles – the lower the number, the larger the size. As you work from size 8 to size 11 here, you can see that the needles are becoming smaller.
For the needles above, the size 11 needle (the smallest) is still 1 1/2 inches long, which means it's long enough to hold a good amount of wraps on it. The size 8 needle in the above line-up is 1 7/8 inches long, decidedly longer and ideal for long bullion knots with lots of wraps.
Straw needles are not limited simply to making French knots and bullions. They're great for any stitch that requires the needle to pass through wrapped thread – for example, drizzle stitch and other cast-on stitches come to mind, and, as quilters know, they're great for hand appliqué.
These particular tubes of needles above come 16 needles in a tube, for about $3.00. You can find them online at Foxglove Cottage.
What's your experience with embroidery needles? Do you use different needles for different tasks, or are you a One Needle Stitcher? Have you tried milliners or straw needles and found them useful, or do you find them unnecessary? Any hints or tips for good French knots and bullions? Share your thoughts below in the comments and let the rest of us know!