Today's post is from Sara Leigh Merrey, author of the blog Confessions of a Remedial Stitcher and proprietress of The Scarlet Thread, a needlework shop devoted to canvas work. While I haven't covered a lot of canvas work on Needle 'n Thread, I have touched on it a little bit with this canvas work sampler, and I do have a little section devoted to canvas work (or needlepoint) under Types of Hand Embroidery. I'm really happy to have Sara Leigh as a guest blogger, because she's going to show us that canvas work is more than repetitive tent stitch. It encompasses a huge variety of stitches that cover the grid of the canvas, and because of the variety of stitches, canvas work can be challenging and fun.
When you hear the word "canvaswork" or "needlepoint" what's the first thing that comes to mind? Okay, forget that now! Try not to think about tent stitch or basketweave, two very serviceable stitches that have their uses but are no longer the mainstay of needlepoint. Yes, they're probably the safest thing for this Remedial Stitcher to attempt, but then again, my preference is to jump into whatever looks interesting and to take a stab at it with my (fortunately blunt) tapestry needle. Otherwise, I'd never have made the transition from cross-stitch to charted needlepoint, or canvaswork.
Until I bought Scarlet Thread, the brick and mortar shop I owned for four years, I only knew there were surface embroidery kits, cross-stitch patterns, and needlepoint kits. Cross-stitch was my particular favorite, though I tried them all. Embroidery was far too "free" for me; needlepoint, too boring with its endless tent stitch. Cross-stitch provided me with the amount of structure I needed and didn't entail stitching endless amounts of background. Then a customer introduced me to the world of charted canvaswork, which was like nothing I'd ever seen. I was bewitched.
My first foray was a class that this same customer, JoAnn, offered to teach in my shop. It was a beautiful design by Laura J. Perin, "Summer Kimono."
I had never done much in the way of specialty stitches in my cross stitch designs, so I was woefully unprepared for this not-for-the-beginner piece. But it was irresistible, due to the rich texture provided by the materials used. Plus it had the advantage of being done on a 24-ct ground, Congress Cloth. I had a preference for fine linen, so this at least didn't stray too far from the thread-counts I was used to.
Needless to say, this was a struggle for me, as it was a little bit of tent stitch for the dark green center band but otherwise all specialty stitches. As you can see, I did not get around to finishing this, but in my defense, the other half was the mirror image of what I got done and my time was limited. I was ready to move on to something else. Something simpler.
I selected "Lois" by Something Different, a lovely geometric design with just a few stitches to master and that I was assured by another customer, Jeff, would be no problem for me to do on my own.
Why do I listen to these people? Actually it wasn't too hard, and I only had to ask JoAnn to look at what I had done in the beginning to verify that I was indeed proceeding correctly. The beauty of canvaswork, I soon discovered, was not limited to its threads. You could cover a lot of territory in very little time, compared with cross-stitch. In a matter of days (or weeks in my case, as I'm not a power stitcher), you could have a beautiful, finished piece of needleart.
Fast forward through a number of barely started or half-finished WIPs, and I'm still pretty much of a novice at this thing called canvaswork. So I decided to tackle a piece that I'd admired since Jeff first taunted me with by bringing in his version done in reds, Scarlet Thread's signature color oddly enough, and saying, "You should do this." To which I replied, "Just let me have that one for the shop!" Ha! Then another stitcher, Julie, who was there at the time, decided to do it in her own colorway. (No, all my customers did not have names starting with J!) I watched her progress at the weekly stitching groups, then admired the finished, framed piece with envy. I had to do it in my own colorway.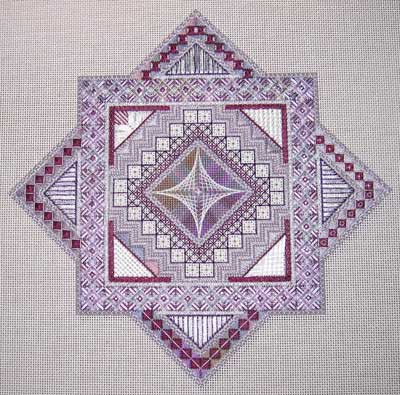 This piece, Jean Hilton's "Turnberry Ridge," was the final step in my conversion to canvaswork stitching. It's subtitled, "A Beginning Needlepoint Project," and though ambitious, it really is a beginning piece. Ms. Hilton's diagrams and instructions are excellent. The piece is a remarkable sampler of canvaswork stitches, and you're given many options for putting your own stamp on the design aside from choosing your own colors.
For example, there was one stitch that I had to ask Julie for help with; and I believe it was me, not the instructions, that was the problem. It was a layered stitch, and I was just not seeing the layers that were in plain sight. It could be executed using different combinations of threads that produced very different textures and effects. At Julie's urging, after she clarified the layer issue, I tried four combinations, varying one or two threads of the five recommended.
In the end, I settled on two combinations, one for the four corners and the other for the rest of the border.
In two other places where Ms. Hilton gave four stitches to choose from, I chose to use all four rather than select one, making it a true stitch sampler.
It's not that I couldn't make up my mind. Another customer, Donna (ha! see, theyíre not all J names!), argued very effectively that it would add yet another dimension to this complex piece. She was so right! I was so pleased and satisfied with the finished piece, particularly since it ended up taking months to complete. I guess not all canvaswork is a quick stitch.
What most fascinates me about canvaswork is the abundance of effects that can be achieved by the right combination of stitches and threads. I'm so addicted now that I have three projects in rotation. Make that four, following the class I took at my local EGA chapter's June meeting, although I should be able to finish this small piece up in a couple of hours!
The first project is a stitch-along that I'm doing with nine other stitchers at monthly meetings. It's Tony Manieri's "Stars for a New Millenium," and at the rate weíre going, it's going to take at least 10 more months, if not more, to finish! This piece is complex, multilayered, and striking in appearance.
So canvaswork is not all tent stitch! If you like the structure of counted work but long for stitch variety, you might find that canvaswork is just the thing for you. There are two things that appeal to me about canvaswork: 1. that there is truly a variety of stitches; and 2. the enormous selection of threads available on the market for canvaswork – there are various weights and twists of almost any thread type out there, just waiting to be stitched onto the canvas. If you want more information on canvaswork or are looking for a starting point to see what it's all about, check Scarlet Threads and Sara Leigh's blog, Confessions of a Remedial Stitcher. This may open you up to a whole new stitching world!