Silk Embroidery Threads and Blogging don't seem to have much in common, do they? Well, to me, they do. I'm nearly addicted to silk embroidery threads, and blogging is a very big part of my life! The greatest thing about writing Needle 'n Thread is the people I've "met" through the website – readers who have written with questions, fellow bloggers who have shared experiences and helped me out, and long-distance friends who share with me a love of stitching. It's nice, you know!
Well, not very long ago, I ran a series of articles on Needle 'n Thread by Kathy Andrews, featuring a few aspects of her Spring in Italy. I was really touched when Kathy sent me a little "thank you," especially when she's the one who helped me!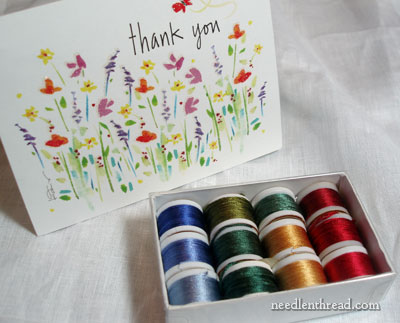 Kathy is an American living in Germany, so she generally buys her needlework supplies in Europe. When I opened her little package and was faced with this delightful little box of spools, I was… well… twitterpated!
I knew right away from the sheen and the general look of the threads that they were silk. And in such a pretty palette of colors, and on such perfect little spools, which fit so perfectly into a little box! But what I didn't know was exactly what kind of thread I was looking at. Silk floss, on spools? In the US, stranded silk doesn't generally come on spools (there are a few exceptions).
Silk Floss On Spools. I love Silk Floss On Spools!
But, I asked myself, what is this Mystery Silk Floss – obviously stranded silk floss – that comes on spools?
And then I was introduced to the difference in marketing in different areas of the world. It's Pearsall's Filoselle, which I like very much – I've only used it a few times, but every time with good results, as it's a very nice thread. In the States, to my knowledge (unless they've started doing something different in the last couple years), Pearsall's comes in little skeins in plastic.
Pearsall's Filoselle is a 6-stranded filament silk floss. I believe it hails from Wales. It comes in about 340 colors, with nice shade ranges in all the color families. In America, the only consistent supplier I know of is Tristan Brooks Designs, though there may certainly be other suppliers.
I am looking forward very much to using these beautiful threads from Kathy – and I think I may even use them on her Spring in Italy designs! (The designs are available in PDF on her website, if you haven't seen them.) Thank you so much, Kathy!
And my concluding thought:
All Silk Floss in the Whole Wide World should be sold on spools. I love the spools!