There are some stories that shouldn't be told. Those regrettable moments when we embarrass ourselves so badly that we cause others to feel embarrassed for us – these are the moments that should be kept hushed, within familial circles and among close friends, protected by that little bubble of "We-love-you-too-much-to-let-other-people-know-just-how-stupid-you-are."
In my family, it never really works that way. We're pretty up front about things, and we don't mind laughing at ourselves. In this particular case, though, there's a bit of an obligation to share a little stitching-related experience I had yesterday, so that you can learn from my mistake and hopefully never do what I did!
This is where we left off yesterday: the pall was soaking. That's also the post where I discussed "humility mistakes" – that little mistake that you leave in your work, because no one, after all, is perfect. Whatever. The mistake I was talking about yesterday, I discovered, was not really The humility mistake.
There was a little voice in the back of my head when I put the pall in to soak (in lukewarm water), and the voice said, "You know, that's silk. You've never actually done a prolonged soak with colored silk. You better be careful." Another voice chimed in quickly – too quickly: "Oh, for heaven's sake. What's the worst that could happen? It's not going to happen. You've soaked other things embroidered with this same exact thread. Just get it over with." (The maniturgium I embroidered was worked with the same color dark gold, for example, and I soaked it briefly before ironing it…)
The other voice replied, "You better not soak it for very long……"
And then…. I proceeded to forget about it. I got busy with other things.
After about an hour and a half, I meandered into the kitchen and saw the bowl of water sitting there with the pall immersed in it. "Oh yeah," said I. "I better take that out." I took it out, rolled it in a towel, and left it for a bit. This is my normal procedure when removing embroidery, or even plain linen, from a soak. Then, while the piece is still somewhat damp, I iron it on the wrong side, on a stack of soft flannel cloths covered with a clean flour sack towel.
I took the pall out of the towel. And that's when I noticed the drastic change in the pall.
This: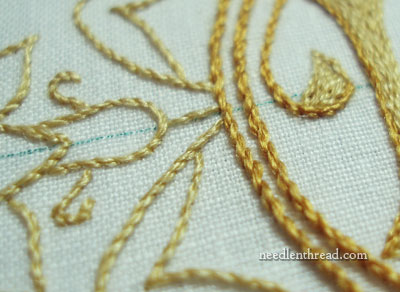 had turned into this:
The prolonged soak had drained the color from the darker gold thread.
And the color had crept out into the fabric, in a kind of pinky glow….
… a pinky glow that caused my stomach to sink, and my face to turn red in shame, and my inner voice to say, "Oooooh. You bloomin' idiot. I told you so."
Oh well. Sometimes we do things like that. And if it's not a good experience for me, it is certainly a good experience for you – or at least, for those of you who might do the same thing if not sufficiently warned!
The thread, Soie d'Alger by Au Ver a Soie, is definitely my favorite stranded spun silk to work with – that hasn't changed. It's a quality silk. I've never had it run before, but I've never left it soaking in a bowl of water for two hours, either. It was just plain water, nothing in it. No dish soap, no anything. The darker gold is the color that ran, which is to be expected. If color is going to run, it's always the darker colors that do it.
I can't explain why the color ran, except that I left it to soak for a long, long time. Silk, in general, is not really meant to be "washed" the same way that cotton is. The prolonged exposure to the water loosened up the dye and sent it seeping, I suppose. The threads aren't guaranteed colorfast, anyway, I don't think.
Well, as I sat contemplating the problem for a bit, I decided that the situation really couldn't be worse – there wasn't anything I could do to render the piece less usable than it was – so why not try something? Why not try a "fix" that might fix it? And if it doesn't fix it, it doesn't matter, because I couldn't use it as it was. I knew I couldn't get the color back, but could I eliminate the pink glow?
Throwing caution to the wind, I took out my canister of the strange and mysterious substance called Orvus. Orvus is a solution that is commonly used to shampoo horses. Yes, I said horses. In fact, I'll talk more about Orvus a bit later – for now, just know that I resorted to Orvus.
"After all," I said to my niece as we both stood there, staring at the bowl, "what's the worst that could happen?"
"Maybe all the green in your basting threads will bleed," she replied.
We looked at each other.
"Hm," said I. "That's a thought."