My sister Sarah has a friend who has a thing for squirrels. With that in mind, Sarah set about stitching a squirrel for her pal for Christmas. The design was originally meant to be stitched over two, on 28 count linen, but I persuaded her that over one on 28 count would be really cute…. Then I talked her into Turkey Work.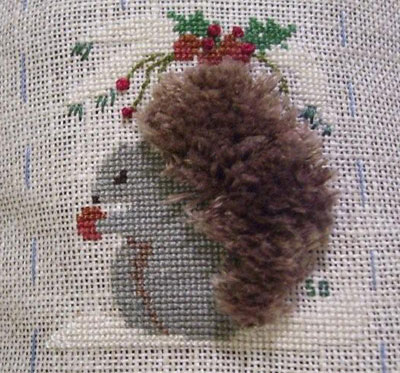 I know it isn't original to use Turkey Work for a squirrel's tail – it's been done before plenty of times, often in stumpwork projects and similar surface embroidery designs. But I thought this project was a particularly good lesson in taking the initiative and "dressing up" a design by making alterations to it. I've talked about this topic before a little bit: kits and patterns are not governed by hard and fast rules. I get this question a lot in e-mail: "I'm working on a project from a kit. I don't like the way this part looks. Am I allowed to change it?" Yes. Yes, you are!
Anyway, Sarah worked the Turkey Work on 28 count fabric, over one thread, using (get this!) all 6 strands of embroidery floss. I don't know if she altered that formula part way through the tail, but that's what she was doing the last time we spoke about it on the phone. Um… I didn't really mean the Turkey Work had to be done over one…. but it sure came out looking full and fluffy! The whole finished piece is about 2″ square.
So, do you alter kits or designs to suit your fancies? What types of things are you more prone to alter: the actual design, the stitching instructions, or the color choices? Or all three? C'mon – leave a comment and help me encourage stitchers who want to make adjustments in designs or kits, but aren't quite sure if they can!
Turkey work – it makes great tails! Try it!