This series of free monograms for hand embroidery is taking a bit longer than I originally planned, but at long last, I've gotten to the M, which is half-way through the alphabet, right? Some day, I just might get to the Z!
There's a small version and a large version below, plus a PDF you can download and print.
If you'd like to see stitching suggestions for this particular set of monograms, you can visit the A Monogram in the series, where I've written a few of my own ideas. And of course, you can experiment and develop your own embellishments, too!
I hear from a lot of folks who use the monograms for other things: from paper crafts (such as quilling, card-making, etc.) to leather work, to glass etching, to appliqué for quilts, and even for graphics for creating company logos. So there are plenty of uses for monograms, other than needlework.
Here's the large version of the M:
And here's the PDF:
Monogram for Hand Embroidery: Fan Flower M (PDF)
I've got other monograms for hand embroidery here on Needle 'n Thread, too, if you're looking for something different.
Favorite Monograms – PDF Collection
You'll find the complete Fan Flower alphabet – along with 15 other decorative alphabets – all in one place in Favorite Monograms, a downloadable PDF collection of 16 monogram alphabets perfect for hand embroidery and other crafts.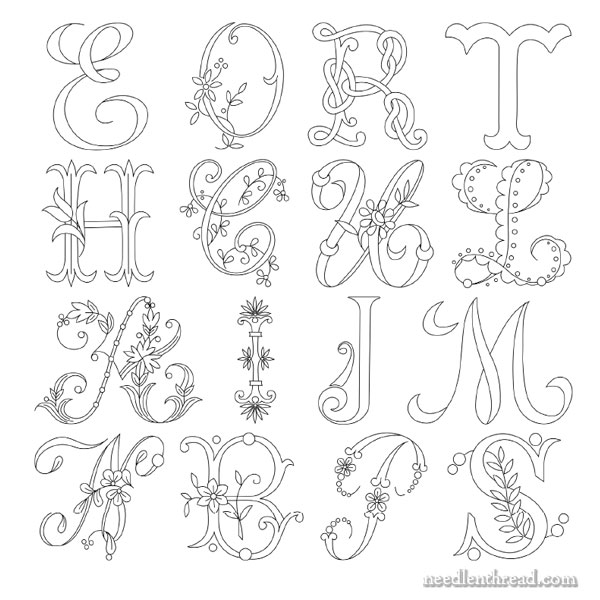 In the photo above, you can see samples of each alphabet available in Favorite Monograms.
The 16-alphabet collection is delivered as via a download link to your inbox shortly after purchase, so that you can begin creating right away! Priced at less than $1.00 per complete alphabet, monogram lovers can't go wrong with this collection!
Favorite Monograms is available in my shop, here.
Tags