It's been a long time since I've done a "Embroidery Around the Traps" type post. This is my way of cataloging the various needlework websites and goings-on in the online needlework world that I've run into while squizzing about the internet lately.
It's a leisurely meandering – and I hope you enjoy browsing these spots as much as I did!
First up – Trish Burr has a new blog:
Trish will be switching her website domain, so in the interlude, she's set up a blog, which will continue to accompany her new site. Following a blog is a great way to keep up with new books, ideas, projects and so forth from a designer, so if you love Trish Burr's work, you may want to subscribe to her newsletter! Trish has two new books coming out next year, one of which is on color in needlework design. I'm really looking forward to that – I can use all the help I can get in that area! Pop on over and say hi!
Another gem worth visiting while you're browsing about is Yvette Stanton's new video on knitted fringe for Mountmellick embroidery. It's really well done, and it makes this finishing step for Mountmellick look easy!
I love Jenny McWhinney's embroidery projects… and this new design out, called Strawberry Jam, is just too darned cute! I want to make this blanket!!!
Bird Brain Designs has this free Halloween embroidery pattern out, if you're looking for something to stitch up before the 31st. I didn't realize it until the other day, but Bird Brain Designs also carries an impressive collection of wool felt, if you're looking for a source for different sized pieces, or wool felt by the yard. It's always nice to find a good supplier of felt.
The Royal School of Needlework has published their first two Essential Stitch Guides – one's on blackwork and the other's on crewel work. If you're looking for new instructional books on those techniques, I would be that these books are pretty impressive. I haven't seen them yet, but one of these days, I'll get them and review them.
Over on Broderie d'Antan you'll find a terrific collection of Christmas designs for hand embroidery. They're little "primitive" drawings of different Christmas subjects, all suitable for … well… whatever you can think of! I was thinking embroidery on felt, for simple tree ornaments or gift tags. They're fun! Check them out!
My First Bambina recently finished a pretty little embroidery project titled "Breath of Spring." She shows you step-by-step how to embroider some really cut little English daisies in pink and white, worked over felt padding – it's a great technique to add to your embroidery projects, to make your flowers really stand out!
Do you ever visit Susan Elliot's blog, Plays with Needles? You should! She'll make you laugh. She always makes me laugh! Her photography is always stunning, too! This past week, she embroidered, appliquéd and sewed up padded mailing envelopes. What an ingenious way to make a mailed parcel rather special – and it's a great way to recycle already-used padded envelopes. With the holidays coming, think small mailed gifts, or swap exchanges, and things like that.
For those of you interested in historic embroidery, Racaire has a new brick stitch embroidery pattern published on her needlework site. Check out her pouch embroidered in brick stitch, to see how she used the pattern. Very pretty!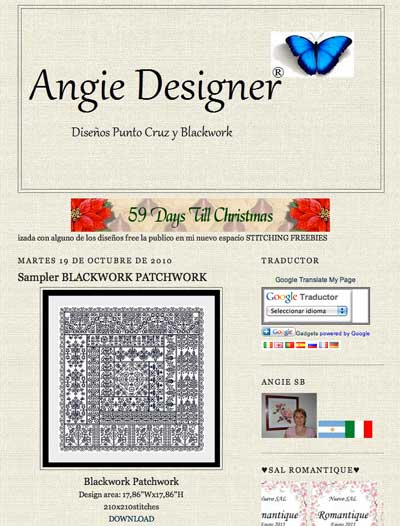 You'll find a fantastic blackwork sampler pattern – for free! – on Angie's website. I like it. It incorporates lots of the fillings and line designs found in the Blackwork Archives, all in a neat balanced square. If you're exploring blackwork these days, this might be a download you're interested in!
So there's my latest round-up! I hope you enjoy these online spots. I had fun wandering around through them!
I'm working on refurbishing the How-To Videos here on Needle 'n Thread – wow. That's a bigger job than I thought! I'm also making a few more stitch videos to add to the collection, and once the editing is done, I will be publishing those! I can't wait! The new videos should be much improved over the old ones, 1. because I know a bit more about capturing and editing video than I knew when I started blogging, and 2. because online video hosting has changed a lot over the past three or four years! So I hope I can manage producing the updated versions – keep your fingers crossed for me!