Continuing with some basic embroidery tips here, today we're going to look at taking a sharp corner with stem stitch. While the technique applies to stem stitch specifically, you can look beyond stem stitch and apply the idea to many stitches.
In the photos, I'm stitching scallops, but this tip applies to any sharp change in line direction where an angle is involved (so, squared corners, tips of stars, and so forth).
In the photo above, you can see that the scallops join with a whole new stem stitch line. The difficulty is that you obviously don't want to change threads, and you can't go up in the same hole you just took your needle down in, because the stitch will come undone. The solution is simple, and if you've worked a bit with stem stitch, chances are, you've already figured this one out a while ago! Still, for beginners, it helps to see how the join is done. So here we go…
This is the end of one scallop, and we're ready to stitch the next one.
Normally, if you were continuing along a line or curve, you'd take your needle back to the end of the previous stitch, above the working thread, and keep stitch. But we want a sharp corner where the scallops join, and if we just continued with regular stem stitch around the corner, we'd end up with a more or less wavy line. Instead, bring your needle up a stitch length away from the corner, on the line of the next scallop.
Then take your needle down into the same hole where the last scallop ended.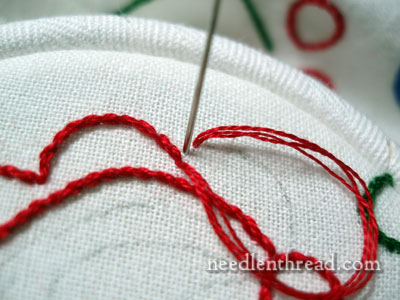 Keeping your working thread looped below the needle, just as you would when regularly stem stitching, bring your needle up on the line, in the middle of the stitch (which hasn't been pulled all the way through yet).
Pull the working thread through, tightening up the stitch. You can see that the working thread is above the first stitch, which is pretty much where you'd be if you were starting a regular stem stitch.
Now you're ready to go forward as usual with the stem stitch.
At this point, you can use a "stab" or a "sewing" method to continue with your stem stitch as usual.
The scallops meet up in a nice sharp corner, which keeps them distinctly scalloped-looking.
So there's another stem stitch tip, which you will find indexed under Tips & Techniques and all listed on the stem stitch video page.