It's been a long, long time since I've successfully produced video tutorials for different hand embroidery stitches. The collection of how-to embroidery videos here on Needle 'n Thread includes over 50 videos of embroidery stitches, but they are all woefully outdated. I'm working on updating the collection, but golly, I'm slow! And on top of that, I think all the planets have to be aligned a certain way for each video to come together as it should!
But – today – finally – I've got one to share. It isn't utterly perfect, but I hope you find it useful!
This video is for the Basket Stitch. I love this stitch! I've not used it much, but every time I have, I've been really satisfied with it! My most recent encounter with Basket Stitch was on the spot sampler: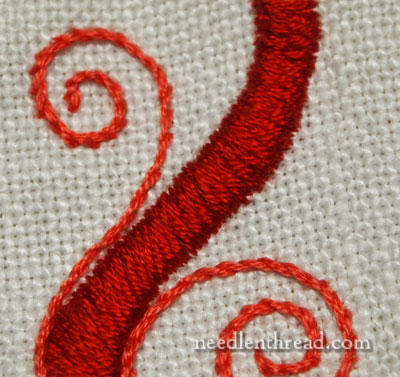 The first time I showed Basket Stitch here on Needle 'n Thread was on this tiny whitework fish, when I was testing a transfer pencil. Some layers of the tail are stitched with basket stitch, as you can see here:
When I worked that little whitework fish guy, I received a heap of requests for instructions on the Basket Stitch – so all I can say is, It's About Time!
Basket Stitch Tips:
Basket Stitch can be worked on plain weave or even weave fabric.
It looks best when stitched with a twisted non-divisible thread, like pearl cotton, coton a broder, floche, buttonhole silk, or any similar thread. It comes out "ok" when worked with floss, but the finish is a lot smoother, and you can't see the "weave" of the stitch as clearly. The excerpt above from the spot sampler (stitched in red) is worked in three strands of regular embroidery floss. See how smooth the finished look is, when compared to the white basket stitching on the fish tail above? The white basket stitches are worked with coton a broder. In the video, I'm using perle cotton (#5), which produces a very visible stitch pattern.
Here's the video – it's rather ancient, but someday, I will update it!
Do you want more inspiration & information on hand embroidery?
There are all kinds of reasons to sign up for the Needle 'n Thread daily newsletter! Check them out and sign up today!
For more video instructions for hand embroidery stitches, please visit my collection of How-To Videos for Hand Embroidery Stitches.
If you like what you see on Needle 'n Thread, if you want to be a part of keeping the website thriving (and free of annoying network advertising), why not become a patron on Patreon? Check out my Patreon page here, where I'll occasionally add special needlework bonuses for patrons.
If you shop on Amazon, you can support Needle 'n Thread without any extra expense to you by visiting my Amazon Recommendations page here, where you'll find books and sundries for the needleworker available on Amazon.