I promise I won't write a special post for each and every hand embroidery video that I update on Needle 'n Thread in the future! But just to let you know what I'm doing behind the scenes, I thought I'd point out the update to the video on how to make a French knot. It's the first of many updates to the Embroidery How-To Videos that will be rolling out in the next month or so. I plan, by the end of December, to replace many of the current videos. Most will be completely re-recorded, but the filming on a couple of them can be salvaged, I think, and just re-edited and re-processed. (If not, they're out, too!)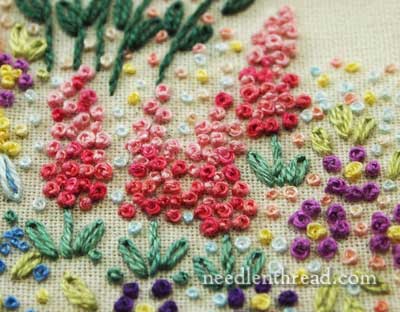 But back to the French knot video. I love French knots – and though they're not always easy for beginners, I've found that, with one-on-one instruction, most stitchers pick them up pretty quickly. So the point of the video is to serve as that one-on-one instruction. Reading a diagram from a book is helpful with lots of stitches, but actually seeing a French knot worked out makes the process so much easier!
There are magnificent stitchers out there who use French knots in ingenious ways! I've seen incredible "needle painting" (of a bumpier nature than regular needle painting) with French knots. They're amazing! And little mini "rugs" made out of French knots…. and brooches… and all sorts of other incredible pieces! I generally seem to use the little things for the typical ho-hum usage – I've used them for lettering, for typical flower creation and fillings, for general stippling around other embroidery… for eyes, for noses, for texture. Yep. French knots are great little things!
I'm enjoying working on the videos. They do take a little bit of work and a lot a bit of time, true, but they force me to slow down and really work through a stitch and think about it. And I like that. I also like the fact that it's taking me back to the "beginnings" of Needle 'n Thread – helping me to refocus on why I originally started the site.
So far, I've had successful "takes" on quite a few new stitches to add to the collection, and on quite a few of the stitches already in the collection. Now, just to edit them and put them together and get them online. Wish me luck!
And finally, here's your opportunity to make any requests. If I can film a stitch for you, just leave a comment below with your suggestion. I'll do my best to accommodate your request (though I can't guarantee a specific time frame).
I'm hoping that you enjoy the new video, or at least that you find it useful. If you already know how to work the French knot, then it might not be for you – but who knows? Maybe you'll meet other stitchers some day who struggle with the French knot. And if you do, feel free to use the video to help them learn.