Christmas came early for me this year – in the form of an embroidery kit! My First Bambina was visiting thrift stores when she came across an incredible find – for a dollar!! (This never happens to me!)
Being the generous soul that she is, she thought of me and picked the thing up, and mailed it to me! Thanks, Bambina!! And I just had to show it to you, because it's one of those finds that, had I found it, I would've been showing it off to everyone, and rambling on about it for days!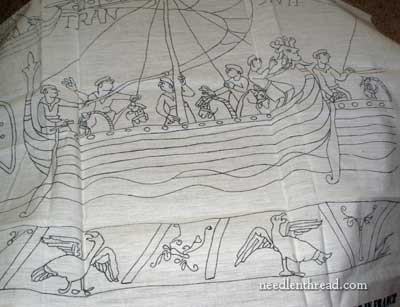 The kit is one of the reproduction Bayeux tapestry kits made in France by the company Princesse. These designs are approved by the Tapestry of Bayeux Association, and they are very well done.
From the little creatures along the border…
… to the hilarious expressions on the sailors faces, the piece is just fantastic. I have a Bayeux kit already – the one with the horses – and although I haven't stitched it yet, one day, I will! I've always wanted one of the ships, so this kit is just perfect for me!
It is, as you can see, made in France.
It also came with the printed instructions…
… and with the recommended colors code.
The kit was obviously something someone bought with the intention to work it, never got around to it, used the threads that came with it somewhere else, and then carted the rest off to a thrift store. And you know what??? That's quite all right! One person's "junk" is another person's treasure, that's for sure! I mean, really – what a find! So thanks to My First Bambina for the new treasure!
If you're looking for the Bayeux Tapestry kits, you can find them new – thread included – in the States at The French Needle (along with other great kits and resources). Granted, you're not going to find them for a buck. (Sorry!) But they are nice kits, especially if you are keen on historical needlework!
So what about you? Have you ever landed a good needlework find at a thrift store?! Any fun stories to share? Like I said, I never come across such things, so I'd love to live vicariously through your experiences! Leave a comment and tell us your stories!