My sisters and I said that a lot as kids. I guess we thought that "mind your own business" was a bad thing to say… or maybe we thought "mind your own beeswax" was a funny thing to say (We were probably a bit nerdy in that regard.) In any case, it isn't the most polite thing in the world to say!
I really don't mean mind your own beeswax. In fact, what I mean is find your own beeswax. Beeswax is an essential ingredient for goldwork embroidery. It's used to coat the stitching threads that hold the real metal onto the fabric. It helps protect the stitching thread from abrasion. To use beeswax for goldwork, run the stitching thread two or three times through your cake of wax, and then run it slowly through your fingers to smooth out any bumps of wax and kind of "melt" the beeswax onto the thread.
Beeswax is used for other needlework adventures, too. Hand quilters, for example, will often use it to stiffen sewing threads, to smooth them, and to prevent tangling. So it's not just essential for goldwork – it's also nice to have on hand in your needlework supplies for other needlework pursuits.
But there's beeswax for embroidery, and then there's Beeswax for embroidery. I don't like the kind of beeswax that flakes all over the place. Even after running the thread through your fingers, inferior beeswax products tends to "peel" and flake off your thread as you stitch, leaving residue behind. No, no. It won't do! For example, that pale yellow round of "beeswax" that comes in a clear plastic, slotted disk and is widely available in the notions section in sewing stores? There's just something not right about it. It's flaky. It's pale. And did I mention that it's flaky?
So instead of turning to your sewing notions aisle, where else can you find beeswax for your needlework?
Well, believe it or not, when I want good beeswax for needlework, I look for it in weird places. Tool shops, for example. Hardware stores. Whole foods stores. Places like that. The little four ounce block above is available in some machine and tool shops. I can't remember where I got that one – it was a small town hardware store out here in the Midwest somewhere. I have about six of them, and they're good. They're not flaky, and they're a very convenient size.
The beeswax disk above came from Hardwick's Hardware in Seattle, Washington. (Their web store isn't in operation right now, but they have an interesting website – and a Really Interesting store, if you ever happen to be in the vicinity!) It's nice 100% beeswax, somewhat softer in feel, and again, no flakiness. It's a little less convenient in size than the stick above, but for a stationary stitching station, it's great.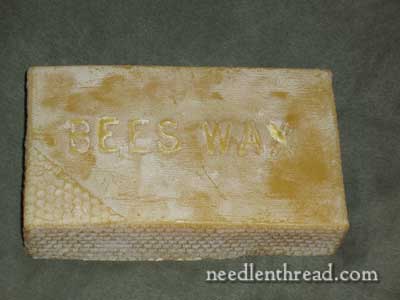 Um. Then there's this fellow. I bought this dainty little piece at The Merc in Lawrence, Kansas. The Merc is a co-op whole foods market. They also carry the round disk, like the one from Hardwick's, as well as the four ounce bars in the top photo.
For portability and manageability, these two are my favorite, and actually, I like the stick best, because it stores and transports really easily.
And for ridiculousness, I kind of like the big block! It's a pound and a half, and not suited at all to toting around with needlework stuff, or even to sitting at a needlework station. It's just too big to use as is. I bought it because… because…. well. It's hard to explain. Maybe it's because I like beeswax and think that everyone should own a 1.5 pound block of the stuff! But actually, at the time, I had some idea about it. Some idea that I would make my own little pats of beeswax for stitching. Some lost idea that I would actually go to the effort to make my own beeswax cakes. Some silly idea……..
You can often find good little pieces of 100% beeswax that fit well into your needlework supplies at specialty needlework stores. They have all kinds of decorative little lumps of the stuff available out there, in stores and online. You don't have to settle for the flaky stuff!
You can also recycle leftover 100% pure (untreated) beeswax candles (like these that adorned our table at Thanksgiving) and use the unused parts for your threads. And of course, don't overlook candle makers and candle-making supply stores. You can find nice bricks of 100% pure beeswax in many of them – but make sure it's not been colored or adulterated.
So don't settle for flaky beeswax for your stitching! Look for the good stuff at unlikely places, and you'll be happily surprised by the difference in feel and result while you stitch!
Post Script: I'm talking primarily about using beeswax to coat threads for goldwork. Most threads for goldwork are gold-colored or yellow and not meant to be too noticeable. Running colored threads through beeswax darkens the thread and dulls it. It's not something I'd do for regular embroidery, even for taming unruly threads.