Happy Thanksgiving!
This year, my family in Kansas will be spending the day at my sister's house, along with lots of family from out of state and some good friends. My contribution to the meal: pie, beeswax candles shaped like pinecones (for decoration – not to eat!), and an embroidered cloth to line the bread basket.
I haven't made the pie yet…
For the cloth to line the bread basket, I turned this coloring book page of fall leaves into an embroidery pattern, by reducing it and tracing it onto a large square flour sack towel. The design is stitched in a combination of chain stitch and stem stitch, so it was Really Fast Stitching.
Wherever you are today, whatever you're doing, even if you aren't celebrating Thanksgiving, I hope this message finds you well and happy, with much to be thankful for in your life! Thank YOU for your constant enthusiasm, inspiration, encouragement, and interest in hand embroidery!
And to keep the yearly "tradition" – here's my Textile Turkey, to wish you a Happy Thanksgiving, too: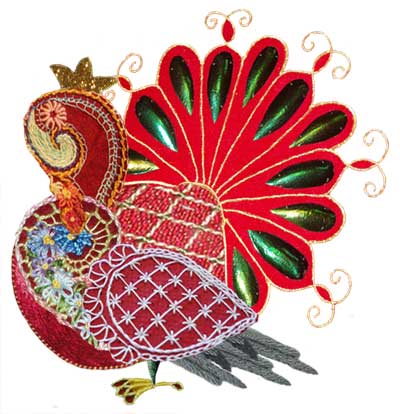 Enjoy the day!