It is true. I'm a sucker for goldwork. And while I love to do it myself, I also like to find other textiles embellished in goldwork. When very fine goldwork is involved, most textiles embellished with it are beyond my pocketbook, but when I come across a small piece hither and yon, I am just twitterpated enough with goldwork to pocket it. Or, in this case, to buy it.
This past weekend, I was hanging around Kansas City waiting for a flight to arrive, and, as usual, I couldn't resist I stopping in at Florilegium (in Parkville), which happens to be the same shop where I picked up the Frog Concert button a while ago. And while there, I noticed, up high on a shelf, a couple spools of ribbon spilling over the edge. They were gauzy, and embellished with goldwork, beads, and sequins.
And, as usual when I go into this shop (which I am determined to avoid for the next year because this happens every time I go there!), I'm sure it was whispering to me from on high!
And you know… I just had to buy half a yard of the stuff. What really intrigued me was the filling pattern on this leaf. There are three types of metal thread used – a rough purl (top petal), a check purl (the lower right petal), and a bright purl (the foremost petal) and check purl combined. The other petals are worked with beads. All the petals are outlined with ivory thread, worked in chain stitch (I suspect it is tambour work).
Looking at the threads up close, I think the bottom thread is a stretched checked sadi thread.
This other leaf on the ribbon is worked in the same filling pattern, with the check sadi thread on stretched in lines, and then couched over with purls in an alternating brick pattern.
This photo captured the real color of some of the metal threads – a rosy gold, just slightly, and very pretty against the ivory stitching and the white gauzy background of the ribbon.
The check purl filling the this petal also has a pinkish hue. But it's very subtly pinkish.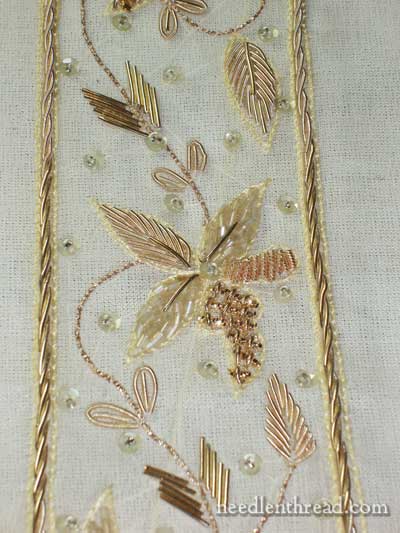 Here's a distant view of the main motif on the ribbon. Do you like it? I just had to share it with you and get your opinion! Finally… any ideas for a half-yard smidgeon of this? Because…. you see… I haven't the foggiest.