When I purchased this Singing Frog button a while back, the idea of a needle minder seemed like a good use for the fellow. I don't always follow through with my original ideas for any Spontaneously Bought Thing, but I had a tube of glue out the other day, and I had some blank magnets on hand, and it just seemed like a natural thing to do, to make the button into a needle minder.
It isn't precisely perfect, as far as needle minders go, but I don't suppose there's any Absolutes when it comes to these types of things. And, anyway, it works. And I like it. Must it measure up to any other criteria?
So today, I thought I'd show you how to make a needle minder out of a button. It's Really Simple, and this is really a casual tutorial. I'm sure there are hundreds of better ways to go about the process, but this is what I did….
First, start with a button you like. I'd go with something that doesn't have holes in it, personally, but if it does have holes, it'll still work. You just have to be careful with the glue – you don't want it seeping through holes, picking up gunk, and ruining the front of the needle minder.
Use newspaper, brown paper, or wax or parchment paper on your table to protect your surface from unwanted glue drips, just in case.
Examine the back of your button. If you have something there that needs removing, you could remove it. A reader suggested a little tiny "diamond blade" saw for carefully removing the back of the button. I don't have such a tool. And trust me, a screw driver is not a good idea! I did try prying and scraping with a tiny screw driver for a second, but abandoned that thought when I saw that one of two things were going to happen: 1. either the screwdriver was going to break, or 2. the button was going to break. Since I really didn't want to break either of them, and since the moment didn't present another solution (though I did briefly consider trying some kind of glue solvent or something of that sort….), I left the metal piece on the back of the button.
If you have a tool or solution for removing the metal on the back of the button, then feel free to remove the metal piece. I didn't have a way to get it off, but I did have donut-shaped magnets that made removing the metal superfluous. Alternately, you could use three or four smaller magnets around the metal thing, but that would require you to buy more magnets!
You can see that the donut-shaped magnets fit really well around the metal thing.
A note on magnets: remember that these will be on your fabric. You really don't want them to leave any residue or marks. Make sure that they are hard magnets, not soft craft magnets that can leave black marks on your work. Test them! Rub them on white fabric, as if you're drawing with chalk. If they leave a mark, look for other magnets!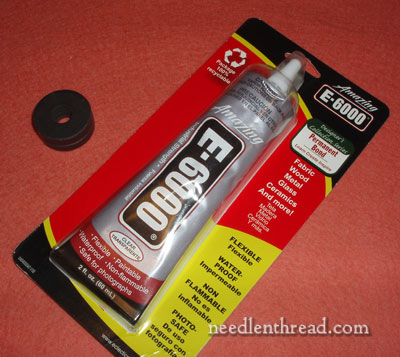 You'll need some reliable glue. I like E-6000 for this type of work. It is strong, works on wood and glass and plastic and fabric and photos and…., and it dries crystal clear.
Put glue on the back of the button. I put it around the metal thing, where the magnet would be, but it pooled a bit in the middle and spread about towards the edge. No worries. You can clean up spreadings and poolings.
When you finish using the glue, use a damp rag to wipe the tip really clean before putting the cap back on. I tend to ruin multiple tubes of glue per year by skipping this step. Don't be like me.
Situate the magnet in the center of the button back, and press into the glue. The pooling in the middle of the magnet is fine. It'll dry. Use a damp cloth to wipe excess glue from the back of the button around the magnet.
Now, leave the thing to dry for 24 hours. After all, you've waited this long for your special needle minder. You can wait another 24 hours!
The needle minder rests on the front of your framed-up embroidery fabric, with a magnet on the back of the fabric, holding the front magnet in place. The magnets I used are fairly strong, so even on a slant, they hold my scissors.
I'm not too keen on the size of the button compared to the magnet – there's quite a hefty overhang on the button there – but, like I said, it works. And I just love the frogs.
Now, whenever I sit down to a framed up project, I can stitch to the accompaniment of my Singing Frogs.
Go look for a button! Make your own needle minder! You'll be glad you did.