This past weekend, my goal was to get Proserpina onto fabric so that I could test various embroidery threads and colors, to narrow down some choices.
The first consideration with this embroidery design was fabric choice. Working with Access Commodities, I considered various possible linens as a ground fabric for Proserpina. There are two choices of fabric I'm debating on now – narrowed down from about six.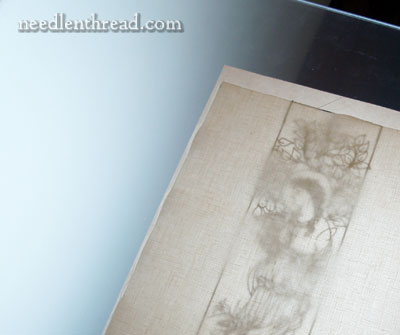 In considering the project overall, what I was looking for in linen was a fine enough ground fabric that would take detailed stitching in fine threads. I considered some color and tone options, only to dismiss those ideas and settle on white. I've narrowed my linen choices to Alabaster Angel by Legacy Linen, and Legacy's Ecclesiastical Linen. Between the two, the ecclesiastical linen is a finer linen, and I think it will end up being my final choice. Still… I will practice a bit of stitching on both linens, to see which one I really like best.
Then, there was the matter of transferring the embroidery design on the two types of linen I'm considering. Transferring an embroidery design always poses some kind of difficulty for me, for some reason. These are the things I thought about while approaching the design transfer:
1. The embroidery will not be washed upon completion. All transfer lines must therefore be thoroughly cover-up-able.
2. The embroidery design is detailed and relatively small. The transfer lines, therefore, need to be precise and fine.
3. At the same time, they need to be really visible, without the lines being too dark.
I began with a few options: a Bohin transfer pencil, a #2 hard lead pencil, and a pen.
With the Bohin pencil, despite efforts to sharpen the ceramic lead with various implements, I was not satisfied with the precision of the line. For larger or less detailed designs, it's great. For this, it wasn't going to work. The #2 pencil was a source of irritation, for some reason, and I figured if I have to transfer this design several times, I was not going to be a happy camper with the pencil. And so, a pen.
Good ole Martha Stewart does it again. My 1st Bambina introduced me to these pens. They're fine-tipped, and they come in a color called "moonstone," which is a pale brownish grey – not nearly as dark as sepia, but dark enough to see well. They're archival quality, permanent pens (like the micron art pens), but unlike micron pens, these come in this unique color that is pale, without being too pale, and dark, without being too dark…. if that makes any sense at all.
The tracing came off fairly well, thanks to my contrived light table and the fine-tipped pen.
My next step, which I'll show you soon, is to test out a few threads and colors. I haven't done that yet! Semester exams are in the way, but they'll be over shortly, and then I can concentrate solely on Proserpina long enough to make some vital decisions about her looks! In addition to Proserpina, I have another project I'll be transferring in order to make some similar decisions, so that will be unfolding in the next few weeks as well.
Any feedback, ideas, questions, comments, suggestions??! Feel free to leave a comment below and let me know!
And now, back to the books! See you tomorrow!