Once upon a time, embroidery needles were precious commodities. They were hand made, sometimes made of precious metals, and they cost (relatively speaking) a pretty penny.
Today, needles aren't so difficult to come by. In the scheme of things, they're relatively inexpensive. I mean, what other embroidery supply can you buy, that you get 12 of for under $2? Because needles are so readily available, we have a tendency to replace our needles often, rather than caring for them.
But occasionally, you might have a favorite needle that you don't want to get rid of so quickly, and yet, it needs… something. It's not as sharp as it once was, it's got a burr, or something is wrong with it.
And that's where the strawberry comes in.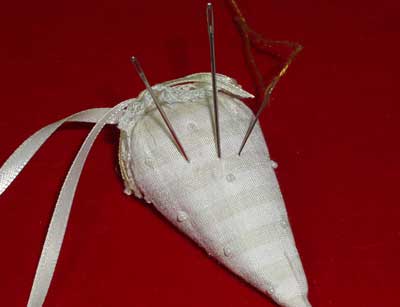 You know the strawberry, don't you? It's not really this strawberry. It's this strawberry: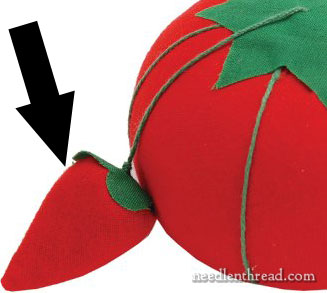 It's the strawberry that hangs off those tomato pincushions. It's there for a reason, and once upon a time, all stitchers and sewers knew what that reason was. But today, I'd bet that many stitchers – especially young'uns – don't realize what the strawberry is.
It's the handle for the tomato, right? It's the part you hold, while you spin the tomato around until the cord twists up, and then you let go and it spins madly in the opposite way, until Mom tells you to stop playing with her pincushion. That's what the strawberry is for, right?
On the right kind of pincushions (it's supposed to be this way – I don't know if they've started making non-purposeful strawberries these days!), the strawberry is filled with a substance called emery. Think "emery board" that you file your fingernails with – a board covered with a hard, gritty, sandy stuff that files your nails down. This stuff is a combination of aluminum oxide (corundum) and either magnetite or hermatite – both of which are iron oxides. It's used to polish stuff, and different grades of emery powder can achieve different levels of sanding or polishing.
When your needle requires a little polish-up, or a bit of a sharpening, or perhaps even a little tiny burr removed on the tip, that's when you use the strawberry.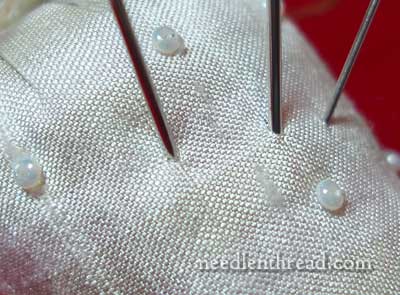 Emeries for polishing and sharpening needles can come in all shapes and sizes. They can be decorative, like this large one that's made of taffeta and touched up with a few beads and ribbons. And strangely enough, they don't have to be strawberries. But for some reason, the strawberry seems to be a common shape. I don't know why. I could speculate – but I won't! I'll leave that needlework trivia bit for someone who knows for sure!
You can buy loose emery sand and make your own pincushion with it, too. Or you can find some of the many online (especially in Etsy) shops that sell handmade pincushions filled with the stuff.
So here's a question: do you ever use an emery strawberry or something similar to maintain your needles? Or do you pretty much pitch your needles when they reach a certain point? (Ha – no pun intended.) It's true that they "don't make 'em like they used to" – mass produced needles are not necessarily worth taking stringent care of … but still. I take care of my favorites (certain sizes, certain types, and all my hand-made Japanese needles), but I'm not so careful with more common needles. I try to be frugal, but not overly obsessive about average needles.
What about you? What's your take on needle care? Feel free to leave a comment and share your thoughts!
Thanks for all your kind notes on yesterday's post! The Creepy Crawly Crud has conquered me for a bit, but hopefully I'll be well and truly recovered by the time this current winter storm blows out of Kansas. We've got another snow day! I'll let you know if I get any stitching done…
Enjoy your day!