Yesterday, I broached the subject of caring for embroidery needles and using emery (often found in the little strawberry on the tomato pincushions) to polish and sharpen them. Today, I'd like to follow up on that post, just to answer a few questions, mention a few resources, and perhaps get more input from some emery-using pros out there!
I'm not a pro on the subject of needle care, admittedly. I've never looked it up, found much information about it in books, or even talked to other stitchers about it until yesterday. Funny that the subject wouldn't come up very often, given the fact that, in embroidery, the needle is pretty much the most essential tool!
First off, a timely resource: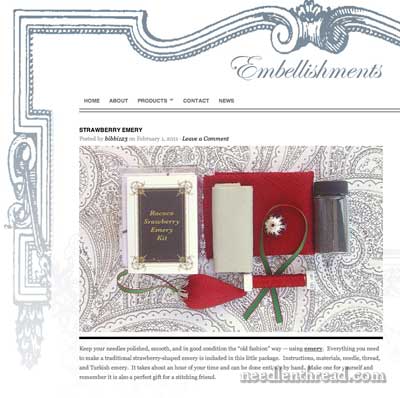 Bobbi over on Embellishments One has a very nice little kit for making your own emery strawberry. It includes everything you need to make a very pretty and practical strawberry, including the Turkish emery. I love the ribbon and the little silver "cap" at the top of the strawberry!
Another resource for already made emery pincushions is Etsy. I did an all-items search for "emery" and came up with a whole bunch of emery pincushions and loose emery. So if you're looking to buy an already made emery pincushion, you might check there for something that strikes your fancy.
Now, about emery itself. There are different grades of the stuff. I was told by one company which supplies abrasives in bulk that, for pincushions, the ideal grade would be 220 or 240, which is a finer emery "powder" compared to the gritty size you normally see (which is around 60 grade). I don't know about this for certain from my own experience, but this person (an expert in industrial abrasives – but not necessarily in pincushions!) asserts that the finer the thing you want polished, the finer the grit should be. And I have to admit, needles are pretty fine. I would imagine that using the fine grade emery would require a lining on the pincushion – and maybe even a double lining. Otherwise, you'd end up with emery powder leakage.
When you use an emery pincushion to sharpen needles, I've always understood that you pass the needle through the thing in one direction, rather than poking the needle in and out of the surface. This doesn't come from having discussed it with experts or anything like that – but I was gratified to see that a couple readers commented the same thing on yesterday's post, so I'm not the only one who does it this way. I don't know where I learned that, though. Did I read it in a book? Did my sister tell me? Did I see my grandmother do that years ago? I haven't foggiest. But I've always understood that that's how it's done.
If this is the case and this is the way you're supposed to use an emery – by passing the needle all the way through – then the very large emery pincushions become superfluous, and the size of the smaller strawberries makes more sense. Another theory I have about the shape of the strawberry for the emery – and I could be Way Wrong here! It's just a theory! – is that at the tip of the strawberry, the emery is condensed tightly into a small space, and if you really need a good polish or more abrasion, then the tip is a good place to pass your needle through. So the shape gives you somewhat of a variation in abrasiveness, because of the tightness of the emery down in the tip of the strawberry. Hey, I could be wrong. Feel free to smack me and call me silly!
Finally, some other questions about needles came up.
Handmade Japanese needles: I use these for certain types of metal thread embroidery. If you're working with metal threads that need to pass through the fabric, then a handmade needle of the right size is a real asset. The round eye that is polished and smooth (no crimps in it from machines) reduces wear on the metal thread. I buy handmade Japanese needles through the Japanese Embroidery Center. At $11 – $21 per needle, they are the types of instruments you really want to take care of. I store mine in a block of felted wool specifically for this purpose. I wouldn't invest in them for regular needlework with done regular thread, personally.
Bent needles: Needles bend, and fine needles bend easily. I have lots of needles that I love that are bent. #10 – #12 crewel needles tend to bend on me more than any other needles, after a bit of use. If the needle becomes too bent to use practically and you're not able to straighten it (often straightening will make the needle perform worse or break), then obviously it's time for a new needle. But that gradual bend that forms because of the way you in particular use that particular needle – and the bend just seems to conform just right to your fingers – well. You're not doing anything wrong there. If the needle still works and it's comfortable, then no worries!
Tarnished needles: These make me nervous. A needle that turns black is not necessarily the best thing to stitch with! If you can polish off the tarnish and keep the needle working easily through the fabric without marring your fabric, then jolly good. If it keeps tarnishing and becomes difficult to pass through the fabric, or risks marring the fabric, I say turf it! Pitch it! Get a different needle!
Gold-plated needles and emery: I don't know from experience, but another reader warns against aggressive use with the strawberry as it will wear off the gold plating prematurely. (Thanks, KB)
Needle storage: Wool felt is always a great way to store needles. Keep in mind that it won't repair or polish needles, but it is excellent for storing them. It keeps them lubricated with just the barest touch of lanolin left in the felt. I had a chuckle over the comments on passing the needle through hair to lubricate it. My grandmother used to do this all the time! I'll stick with the wool, thanks.
Come now – your turn! Any more information or input you can add on the subject of needle care? Feel free to add your thoughts!