A month ago today, I wrote about Thimbles. But don't worry – on the Ides of every month, I don't plan on writing about thimbles! What I really enjoyed about the post was the reader input on the question of thimbles. There were over 100 comments on that post, and so many of them were good suggestions, good stories, and good information about thimbles and finger protection when stitching. It was so enjoyable reading them!
There is a certain attraction to the thimble, no doubt. Do you suppose the thimble is a kind of "symbol," in a way? ("Thimble Symbol" – eesh, what a rhyme!) But really, we collect them, we embellish them, we make houses for them – they are precious, and they've certainly been a valued tool to generations of needleworkers. Take, for example, the latest issue (and many, many past issues!) of Sampler and Antique Needlework Quarterly. In the latest issue, there are some of the most elaborate thimble holders that I've ever seen! What effort people have gone to, to protect and house their thimbles! It's really amazing!
And that brings me – with some trepidation – to today's topic: the Finger Glove!
In Humanity's Quest for Comfort and Disposable Convenience, the Finger Glove is bound to take some kind of seat in history. But I don't think it's going to be quite the same "noble" seat that the thimble has had over the years!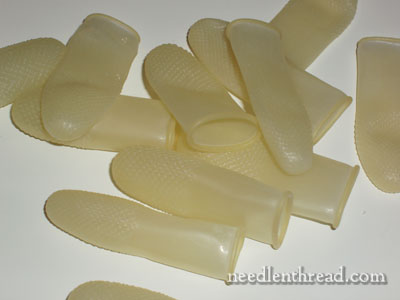 There's nothing attractive about the Finger Glove. Finger Gloves are finger-sized pieces of thick, nubby latex that fit over the individual fingers, in order to protect them from the needle and also to provide grip.
On first trying them out, you might think – like I did (and do still) – that they are a bit weird feeling. They are! I've never liked latex gloves, and having individual fingers coated with really thick latex is not exactly my cup o' tea.
BUT – they seem to be pretty darned handy when stitching, especially when stitching in tough spots. I'm sure we've all experienced those stitching moments when it's tough to get the needle through the fabric. Sinking goldwork threads comes to mind, as does stitching through kid leather – or just getting the needle through a place where too many stitches are built up on the front and back of the fabric!
Unlike its noble and time-tested counterpart, the Finger Glove is not really meant to be beautiful. And it's not meant to be treasured and kept and decorated and housed. It's pretty much disposable. I don't think too many of us are going to embroider a little etui or carve a bone box in which to house a bit of latex. The one thing the Finger Glove is, is serviceable.
Finger Gloves are probably more common to quilters than they are to embroiderers. I've seen them in multiple quilt shops, but I've yet to see them in too may needlework shops (though some do carry them – like Nordic Needle, where they are on sale right now for $3.99).
Now that I have a few of them (I picked up a pack at a quilt shop last weekend, just out of curiosity!), I do plan on keeping a few in my tool box, for those Tough Needling Moments. I toyed with the idea of getting used to stitching with them on a more permanent basis, but after a few stitches – when I really didn't need any thimble-like help – I gave up on that plan. While I certainly would love to have a second hand, I don't really relish having a second skin on my hand.
But I do have to admit: as odd-looking and odd-feeling as they are, they sure are serviceable.
So what do you reckon? Do you think 21st Century stitchers are going to devise artistic cases and coverings for their latex Finger Gloves? Or do you think we're more prone to continue to treasure the thimble?! I'd love to hear your thoughts!