This past weekend, I had a chance to try out Sulky's Iron-On Transfer Pens. Readers have sent questions about them for a while, but they're not something I've ever tried before, until this weekend. I could never give an answer beyond "I've heard they work ok, but I haven't tried them." This is something I wanted to remedy!
Now I've tried them. Here's a little bit on how you're supposed to use the pens, along with my impressions and some pros and cons while working through a couple transfers using the Little Tulips hand embroidery pattern.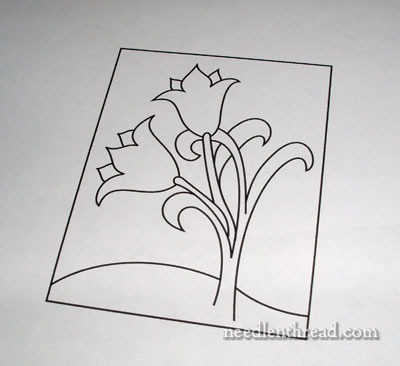 Using the Sulky Iron-on Transfer Pens is pretty simple. First, print your design on regular computer paper. You can also trace your design on tracing paper or regular printer paper, but they suggest that if you're using a non-porous paper (like vellum), to do the iron-on while the ink is still wet on the paper. I just used regular printer paper from my computer.
I'm using the sepia / brown colored transfer pen here (even though the cap looks black in the black in the photo…) I traced directly on the printed lines of the pattern. This is going to cause the pattern to be reversed when I iron it on, but that's ok. It's just a test pattern. If you don't want your imaged to be reversed, you need to trace your design on the back of the paper, rather than directly on your printed lines.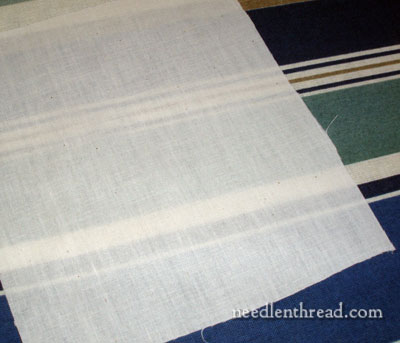 I'm just using a piece of regular muslin for this trial. It's ironed and wrinkle-less, which is always important when you're doing an iron-on transfer. You get a much cleaner transfer on ironed, wrinkle-free fabric. (That's my other ugly ironing board cover, by the way!)
The design goes traced-side-down onto the fabric, and then, using the appropriate setting for the fabric you're ironing (here, it's the highest cotton setting), press the hot, dry iron onto the paper, which is on the fabric. It's a typical iron-on transfer here…. but notice that I didn't pin my design onto the fabric or adhere it in any way, so I'm not going to rub back and forth with the iron. In fact, picking up the iron and putting it back down is out of the question, too, or I may end up with a fuzzy image or a shifted duplicate on the fabric.
Generally, I pin iron-on transfers when I use them. Quilters may be familiar, though, with a spray on adhesive that dissolves with heat, and apparently, you can spray your pattern with this, and then adhere it onto the fabric and do the iron on. I'm not one to add adhesives to the front of embroidery projects, so this isn't something I'd necessarily do, but you can always play around with that if you want to, to see if it gives you satisfactory results for your needlework.
Anyway, the upshot of this is that I simply pressed down directly with the dry iron and didn't move it at all. This is not necessarily the best way to get a good transfer. For one thing, there are those little steam holes that can cause interference with the heat, and for another, not all iron surfaces heat equally from tip to base. I'd suggest pinning the pattern so that you're free to pick up the iron and press it down again in other locations (especially if your pattern is large). Don't rub the iron. Just pick it up and press it down.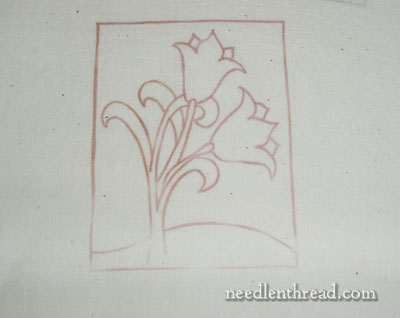 The transfer came out pretty well, considering my limitations with moving the iron. You can see that the top of the pattern is quite crisp. The lines are relatively thick. You can gauge the thickness of your line when you trace the pattern, by applying less pressure on the pen, a lighter touch in your tracing, and by moving the pen quickly across the surface of the paper. But even on the areas where I went with as thin a line as I could draw, the transfer line is still relatively thick. This means that, when the piece is embroidered, the stitches are going to have to be heavy enough to cover the line, as the transfer is permanent.
Ok, let's move on to some other colors! The pens come in 8 colors. The colors don't have to be used just for lines – you can color in areas of your patterns with them. Remember that the color transfer will be permanent.
In this design, which is two of the Little Tulips side by side, it doesn't really make any difference whether I trace on the front or the back of the paper. But just to show you that it's pretty easy to trace on the back, I flipped the paper. If you're using a pattern that's printed off your computer and the lines of the pattern are dark enough, just put your paper on a white surface and it'll be a cinch to trace on the back of the design. The pens work well with a ruler, if you want to draw straight lines.
How about some orange tulips? The cap is a bright, bright orange, so I was surprised at the dullness of the ink. But when ironed, the ink brightens up quite a bit.
And some green leaves and a green hill….
I should've pinned the pattern so I could move the iron. I also didn't leave it on very long – a slow count to 8 (one Mississippi, two Mississippi…) but I think it could have remained on there to 12, easily. The lower part of my iron face doesn't heat as well as the tip. Knowing that, I should've taken the time to pin the pattern. I'm sure the resulting transfer would have been much more vivid if I had moved the iron and replaced it.
On the other hand – keeping in mind that the transfer is permanent – you might want a lighter transfer for your hand embroidery projects. If that's the case, decrease the amount of ironing time.
More on what will become of the tulips, later!
Pros and Cons of the Sulky Iron-On Transfer Pens:
Pros:
1. They work well, and certainly a lot better than other iron-on transfer pencils out there (the red pencils are not that impressive, in my opinion).
2. They come in colors, if that's important to you.
3. They're easy to use.
Cons:
1. No matter how thin you try to draw the line, you won't get a very fine line out of the pens. If you're covering the lines, that's ok.
2. If you don't cover the lines, the marks are permanent and you can't remove visible residue. If you're covering the lines, that's ok.
Final Impressions:
Iron-on transfers are not my favorite way of getting a design on fabric, but if I were going to use this method of transfer, I think these pens work really well. I'd take extra care in fixing the pattern to the fabric, so that I could move the iron and get an even transfer. I'd also make sure my plans for the embroidery included very solid lines that would cover the transfer. I could see using these for flour sack towels and so forth – and especially for hand drawn designs (say, by kids – kid art would be a lot of fun!).
So there it is – now I can say I've tried them, and I can confidently answer any future questions about them! If you're looking for the pens, you can find them at quilt shops, fabric stores and so forth, on the notions aisle usually near stabilizers somewhere. If your shop doesn't carry them, but they do carry other Sulky products, you can probably ask them to order them for you. There's more information on the Sulky pens on their website, too – including a demo video geared towards quilting, appliqué, and machine embroidery – it's informative.
What about you? Have you used these pens before? Any opinion on them? Any suggestions for other uses? Do you have any questions that aren't answered above? Feel free to leave a comment!