This is a pattern re-make! I was looking for an embroidery pattern that was small and simple – something suitable for a wee project that's tumbling around in my head. Something…. simple. Simple lines. Simple shape. Not much to it.
So I started filtering through the embroidery patterns here on Needle 'n Thread to remind myself exactly what I have on here, and when I came to this Tulips a la Morris pattern, I realized it was exactly what I was looking for – but it was too big, and the lines weren't quite sharp enough. I drew the older one up when I was tracing patterns with a tablet (which I still do, now and again!) So I revamped the pattern, cleaned up the lines, and shrunk it down to 3″ tall.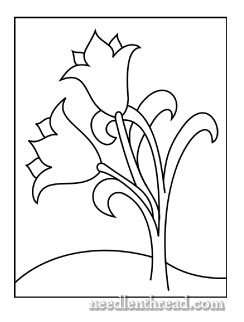 Today, I'm going to set the little project up for stitching. I'm trying out a new (to me) way of transferring a design, and a new thread. For me, the thread is quite a deviation, but it'll be fun to play with! I'll show it to you later on (unless I completely flub up the project…. at which point, I'll pretend I never mentioned it!)
Here's a PDF of the wee tulips. The design prints at 3″ tall and about 2.9″ wide.
Little Tulips (PDF)
If you'd like to predict what you think I'm doing with the design, feel free to leave a comment – and any other suggestions for stitching the pattern are always welcome!