Throughout history – whether through war and conquest or through migration of peoples or through other myriad events – cultures have mixed, and when mixing, they influence subsequent developments in the arts. Last week, while I was preparing this Hungarian embroidery pattern for publishing, I found myself thinking of the various influences on embroidery design, and in particular, I contemplated the Ottoman influence on Hungarian design. (Incidentally, Mike mentioned the Turkish influence on Hungarian embroidery in the comment section on the aforementioned Hungarian embroidery pattern published earlier this week).
There is something about this design of Lilly's that struck me as particularly Byzantine-ish, and this thought led me to looking for examples of Turkish embroidery and designs online, which in turn led me to some good design resources. Today, I'll share those resources with you and point out some things that struck me as similar between Hungarian and Turkish designs.
First, let's start with part of Lilly's design:
The outline of Lilly's design is what first struck me. It is rather typical of arabesque designs, with it's mosque-like peaks and valleys. In fact, the whole design, while not geometric (though quite symmetric) has an arabesque look to it.
Here's a snippet of a Turkish embroidery design that has a similar edge:
The other clue that got me thinking of the Ottoman influence on Hungarian design is the central "flower" element on each side of the design:
It is no wonder that there is a definite Ottoman influence in Hungarian art and design. From as early as the 1400's through the beginning of the 18th century, parts of Hungary were occupied by the Turks, in one way or another. For about 150 years (from the early 1500s through the late 1600's), the Kingdom of Hungary was entirely under Turkish occupation. The sharing of design elements back and forth between each culture would be inevitable under such circumstances.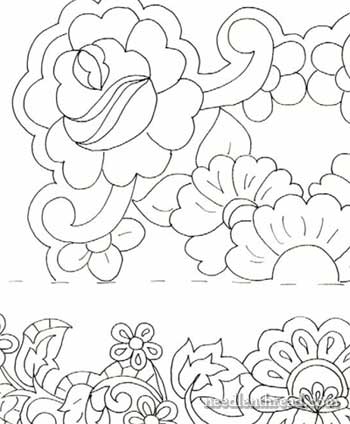 But it goes both ways. When looking through the same collection of Turkish embroidery designs, it was not surprising to see elements and patterns that would look perfectly natural in a catalog of Hungarian embroidery patterns, too.
This is one facet of needlework that I find absolutely absorbing: the combination of cultural influences in the various styles of embroidery. If I had the time to spend on deep research, I think it would be fascinating to study the various needlework designs and techniques from two areas: Eastern Europe and around the Mediterranean basin, following the threads of history that connect the various influences found in regional embroidery.
The partial designs above are all taken from four books of embroidery designs available on the ISMEK.org website. While exploring the Hungarian – Turkish connection, I came across ISMEK, which is a vocational training institution in Turkey. Their website features many arts, crafts, and vocational publications in PDF format that can be downloaded. The four embroidery design books are full of line drawings that would translate well into all kinds of needlework techniques. Here are the direct links to the books, so that you don't have to sift through too much on the website to find them: Design Book 1, Design Book 2, Design Book 3, and Design Book 4. They're all PDFs, so you can either download directly to your computer, or choose "save as" and rename them when saving them.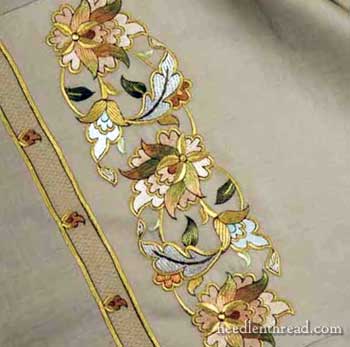 Of course, I couldn't restrict myself to just the embroidery designs while wandering through the publications available on the ISMEK website … and I ended up browsing through some other books that have a plethora of artistic content. For example, there's this "Prestige Catalog" (PDF) which features all kinds of made items, including some hand embroidered decorative items for the home that are really quite beautiful. It's worth a browse for inspiration alone!
(Another "incidentally" – this must've been the week for thinking of Turkish embroidery! This past Monday, Hannah published links to the very same Turkish embroidery resources on her blog enbrouderie. My post today was actually written last Saturday, so I thought it rather serendipitous that we both had Turkish embroidery on the brain, leading us to this resource. Hannah also posted a couple other interesting links, plus a "Turkish-esque" design she is currently stitching, so do check them out!)