Spring is coming on in bits and spurts here in Kansas, and that means a couple things for me: one, my thoughts turn to bright spring colors and things I can stitch with them; and two, the school year is careening to a close.
For those of you who have been putting up with me for a while, you know that I've been teaching a high school Needle Arts class this year. I haven't mentioned it much lately, because I don't want to bore you with the nitty gritty details, but since it's been a while since I've mentioned it, I figure you'll indulge me!
On the school front, I've been working on adjusting my Needle Arts curriculum a little bit, to accommodate the onslaught of Spring and all the attitudes and accomplishments that go with it. By accomplishments, I mean the knowledge and skills gained through the school year, which, towards the end of the year, should be reinforced and put to the test. By attitudes, I mean the almost-jubilant antsy-ness that comes with warmer weather. Kids tend to think summer vacation is here long before it ever gets here, because suddenly the sun is shining, the birds are singing, and it's a lot warmer out. The arrival of spring is energizing in that regard, but it also presents a few difficulties in the classroom – like keeping students focused and encouraging them to persevere to the end.
According to my original plan for my Needle Arts class, the second semester of the school year was to begin with a whitework project, followed by a small crewel embroidery project.
After forging through whitework, I realized that too much structure and too much what I call "formal" embroidery can be a bit disheartening for youth who are just getting into embroidery. What they seemed to enjoy most about their spot samplers from the first semester is that they had a lot of leeway in color choice, design choice, and layout of their "spots" of needlework on their samplers.
The whitework projects were different: color choice didn't come into the picture, and design choice was limited to picking one of two designs. While the students persevered in their whitework projects and did a really nice job on them, I don't have the sense that they actually enjoyed the projects as much. Part of this may be the lack of color, which understandably is a big draw for the teenager learning to stitch. Never underestimate the power of color!
To break up the formality of planned embroidery projects that require following meticulous instructions, getting familiar with unfamiliar threads, and selecting between a couple pre-determined designs, I've decided on an adjustment to the plan for second semester.
I'm resorting to the K-I-S-S plan: Keep It Simple, Stupi… er, Sweetie.
Moving away from "formal" stitching, we'll be doing what I call "relaxing" embroidery. The humble flour sack towel is the ground fabric, and for threads, we're using stranded cotton floss, which works out well on three accounts: the students are familiar with it, the color selection is vast, and it's within the budget!
When I told the students we'd be going back to regular stranded cotton for the next project, stitching a "Spring" project in color, one of the students asked enthusiastically, "In Spring brights?!"
Yes, I thought. Spring Bright is going to be wonderful!
So now we're stitching corner designs in spring colors on flour sack towels.
I had several towels left over from my summer embroidery classes, so there was little expenditure there (which is good – the budget gets tight as the school year approaches its end). The students have a wide choice of designs, and they can even draw their own designs if they wish. To keep the whole process even simpler (yet still within budget), I dug out of my stash every sheet of Transfer-Eze I could get my paws on, plus a sample packet of Sulky's Sticky Fabri-Solvy, which is the same thing as Transfer-Eze. Between the two packages, printing two designs per page, we were good to go!
And even if it isn't the little crewel design I had planned for them to do at this point, the flour sack towels are still an excellent exercise in basic stitchery. To embroider the towels, they get to choose out of their repertoire of 40 stitches that they learned first semester and execute their designs however they wish.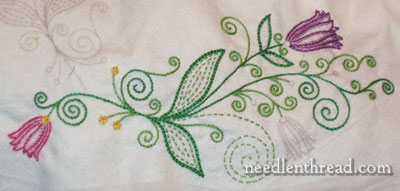 And while it's true that they're not experiencing wool threads, and it's true that they aren't practicing traditional transfer methods for their project (they've already had to transfer designs twice, using different methods, so I'm ok with that), they are experiencing something else that I'm afraid would have been a bit stifled otherwise: they're having fun. They're working mostly with bright colors – Spring Bright! – on designs of their own choosing, enjoying relaxing embroidery, using the stitches they like best.
Yep. It's a good break. And a perfect way to welcome Spring!