Thumbing through the latest issue of Needle Arts Magazine (the EGA's official quarterly publication), I fell into a reverie on all sorts of subjects related to the needleworker's dedication to the pursuit of All Things Needle.
The cover started me off:
I've long wanted to work one of Jane Nicholas's stumpwork and metal thread embroidery kits, and this particular Persian tile is one of my favorites. Yet I've not made the investment in the supplies necessary to work the kit (though I do have her Persian Tiles book, with all the instructions). Why haven't I done that yet?, I mused.
You've spent money on other things in the last year that haven't interested you as much as these pieces, the inner voice nagged. And yet, I didn't make the commitment (yet!) to invest in one of these projects.
Continuing through the magazine, I landed on what I was looking for:
This is the announcement of the teaching faculty for the EGA's 2012 National Seminar, which is taking place in Santa Fe, New Mexico, in autumn, 2012.
I've wanted to attend one of these National Seminars hosted by the EGA for a long time, but they are Way Out of My Budget Range. I remember last year musing seriously over this year's national event taking place at a resort in Naples, Florida, contemplating the projects that interested me most:
There's Kay Stanis's goldwork (or nué) reef fish. Yep, sign me up for that!
And Tanja Berlin's goldwork peacock feather – put me on the list!
Ohhh. And this Danish whitework class looks interesting – I'll take it, too.
And Marsha's tropical parrot box?! Absolutely up my alley. They're parrots. And they're embroidered. And they're on a box.
Granted, you couldn't take that many classes in one EGA seminar, but as I poured over the catalog, I found myself becoming wistful.
And in that moment of wistful contemplation, I decided I'd start saving for the 2012 EGA national seminar, which is to take place in Santa Fe, New Mexico at the end of October, 2012. I thought of all the bonuses of saving towards Santa Fe: I love Santa Fe and its southwestern setting; it's within what I'd call easy driving distance (8 or 9 hours); the event is distant enough to reasonably work it into the budget.
And that brings me back to this current issue of Needle Arts Magazine. I was looking for the faculty line-up for Santa Fe. And I was also contemplating Jane Nicholas's Persian tile. Why haven't I invested in the supplies to stitch that project? Simply because, like anything else in life, I made a choice, and I prioritized according to present and future needs and wants.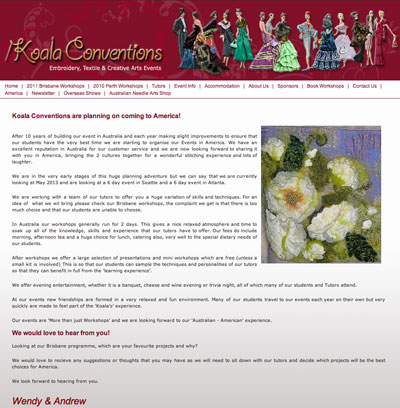 While perusing through the magazine, I came across the Koala Conventions ad for May, 2013, when Koala Conventions is coming to America. That was another thing I wanted to budget for, but two such events within 7 months of each other? No, I'd have to make a choice – it would have to be one or the other. Another choice to make. One or the other – or, depending on what Life deals out in the meantime, maybe neither. But if either, the planning has to start now for me.
And that brought me back to price tags and the things we save for. I think needlework must be a Very Important part of many people's lives, given the fact that we are willing to spend a lot of money to pursue seriously our hobby. And I felt a twinge of guilt, momentarily. Should I save towards such an extravagant expense, given current economic conditions, given the general state of the world, given the charitable causes that could benefit from more of my help, given the repairs that should take place on the house, given the uncertainty of the future? ….
And that brought me around to the value of the needle arts.
Is it worthwhile to concentrate our efforts, and to spend spend (sometimes serious) funds, on the pursuit of excellence in needlework?
I think it is. On the grand scale, needlework is an important element in every culture's social heritage. It is worth keeping alive, and it can only be kept alive if people pursue personal excellence in the art. On the individual scale, excellence in needlework is worth pursuing – it contributes to our well-being, it makes us more pleasant to be around (have you ever met a needleworker who was a mean crank? I haven't…); it gives us focus and direction; it provides relaxation; it allows us to use and hone our creative processes; it forms strong bonds of friendship. In many ways, it defines us.
So, is it worthwhile to save towards Big Expenditure in the realm of needlework? Or, if you're not in a position where you have to 'save', to spend what would, to many, seem an extravagant amount on a "hobby"? Do you consider the money you spend on needlework an "investment" (money well spent), or a frivolity?
I know it's a sensitive subject, to talk about money and the ways we spend it. I'm not asking for a run-down on people's budgets or salaries here, nor personal judgments on what you think other people should or should not spend money on. Whether you spend .00001% of your income on needlework supplies, or 50% of your income on needlework supplies, my question is this: Do you consider it money well spent? And if so, why?
Feel free to comment and share your thoughts, maybe to give ideas of how you manage your hobby budget if you have one, or to offer good reasons why it is (or is not) worthwhile to invest in one's hobby. Any insights you give may be helpful for someone else out there, so if you've got experience to share, please do!
Of course, all this musing on such mundane matters is simply the forerunner to my big project for today: balancing the books! Argh. See you tomorrow!
For those looking for learning opportunities, there are plenty of alternatives to attending national seminars and similar large events that are generally pretty expensive. You can seek out online classes through many individual designers, you can take correspondence courses through the EGA, you can attend local classes or local seminars which are usually decidedly less expensive than big national events. Before plunging into larger events, you might assess what you want to learn, and then find out if you can learn it at the local level or online. Just a thought!