Goldwork Techniques, Projects and Pure Inspirations by Hazel Everett – there's a lot I could say about this book.
And I probably will say a lot about it. (Well, you know me… when the opportunity strikes, I do go on, don't I?)
But, if I could sum it all up in a short sentence, it would be this:
You Need This Book.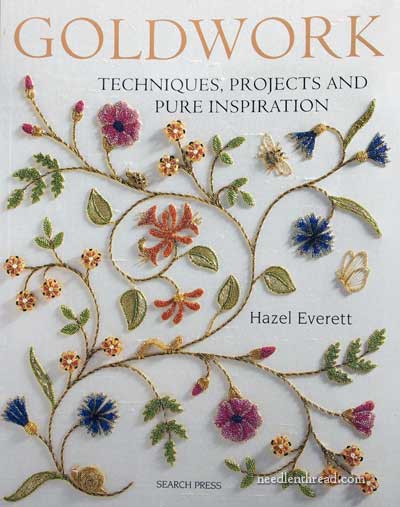 If you are remotely interested in needlework, if you are toying with the idea of trying goldwork, if you're a pro at goldwork, if you only like looking at goldwork and never intend to do any…. You Need This Book.
It is a WOW book.
First, there's that whole question of eye appeal. Color is everywhere in this book – the richest of colors, combined with the richest of gold threads, in the creation of sumptuous projects that are fresh, beautiful, appealing. It's a joy just to look at this book.
But there's more to it than just eye-candy. The book is thoroughly instructive. The author takes the reader through each step of goldwork – from the essential beginning information on project set-up, to the tools, to the fabric, to the threads, through all the techniques for each kind of goldwork thread …. it's all in here.
(And there's even a Tudor Rose.)
The various ways of approaching goldwork are covered in the book: are you working a dimensional goldwork project? She covers it. Padded goldwork? Flat goldwork? Only chipping? Only couching? Everything combined? It's all in here.
I think Hazel Everett has one of the most thorough sections on padding and types of padding for goldwork that I've seen in any goldwork book. And it's all very easy to understand, laid out with good photos and handy little side notes and tips.
If you're not familiar with all the types of real metal threads available on the market today, you'll find the pictorial thread charts in the book very handy. They're arranged according to type of metal thread, with images of each thread in their various sizes.
The techniques section of the book is where the meat of the whole matter of goldwork can be found. The author presents the various techniques of working with real metal threads through "samplers" that show how the threads look when treated a certain way.
Under techniques, Everett treats each type of thread in general, and then shows specific applications. She also looks at specific goldwork techniques up close, like Or Nué and appliqué. With photos and diagrams, she makes goldwork accessible to the beginner while feeding plenty of fresh ideas to the amateur and beyond.
Towards the end of the book is the projects section. From flowers to bugs to book covers to samplers to hanging ornaments – there are plenty of projects in here to inspire you.
I'm afraid I didn't show you the Best of the Book here. There are some knock-down gorgeous projects within these pages! Worth taking the time to sit with a nice cup of tea and browse your eyes out.
Gosh, I love it when a book is everything I hoped it would be!
Where to Find It
Goldwork Techniques, Projects and Pure Inspiration by Hazel Everett is published by Search Press. If you can't find it in your own country, consider ordering it through The Book Depository (free world-wide shipping), where it is competitively priced.
In the US, you can find Goldwork Techniques, Projects and Pure Inspiration through Amazon.
It's proving to be a popular book, so if you want it, now's the time to get it!