Since today is Saturday – and since the weather's nice and there's Much To Do – I just thought I'd pop in for a brief moment to let you know that I updated the Chain Stitch Video here on Needle 'n Thread.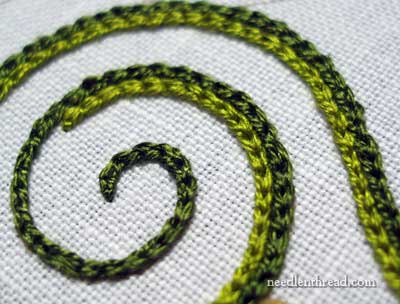 Chain stitch is definitely a stitch to have in your repertoire. Beginners who have learned running stitch and backstitch normally move on to chain stitch and stem stitch next, so if you're just starting out and getting familiar with stitches, this is one you'll want to know!
Chain stitch can be worked in two ways, and I demonstrate both ways in the video. The most common way is the "sewing" method, where you insert the needle into the fabric, scoop up a bit of the fabric and pull the needle back through, all from the front of the fabric. This method is demonstrated in just about every stitch dictionary. But when you're working on fabric that is pulled taut in a frame, the better way to work the stitch is the "stab" method, with the needle moving from the front of the fabric to the back. This saves your fabric from becoming discombobulated.
If you'd like to check out the new chain stitch video, feel free!
Yesterday, I commented on the Needle 'n Thread Facebook page that it's funny how computer work (which is supposed to make life so convenient and allow us to get things done faster) eats up so much time! I've promised myself that this weekend, I'm going to spend more time stitching than I am taking care of computer work. Next week, I'll have some progress reports on a variety of projects going on backstage.
I've been having a lot of fun reading your comments on the Woad-Dyed Crewel Yarn Give-away. There are several pages of comments at the end of the give-away post that are fun to read! If you haven't had a chance to sign up, the give-away closes on Monday, when I'll be selecting two winners to receive the range of woad-dyed threads from Renaissance Dyeing.
Coming to you from Kansas on a delightfully chilly fall day – I hope you have a terrific weekend!