I've been thinking a lot about satin stitch lately. It's probably the most question-provoking stitch out there. In concept, it isn't a difficult stitch: really, when we satin stitch, all we're doing is lining up straight stitches parallel to each other, to cover an area. Still, it's not as easy as it sounds, is it?
The other day, I started browsing through articles on satin stitch here on Needle 'n Thread, just to see if I've ever covered anything really meaningful and instructive about this glorious stitch – anything that people could really get their teeth into (or their fingers) and conquer once and for all the satin stitch. I came up with a lot of articles and a lot of thoughts on the stitch. It would take too long to recap too many points about satin stitch all in one place, so today, through pictures, I'm going to talk about materials that can be used to achieve a nice satin stitch. You can click on the photo to be taken to the blog post related to each photo.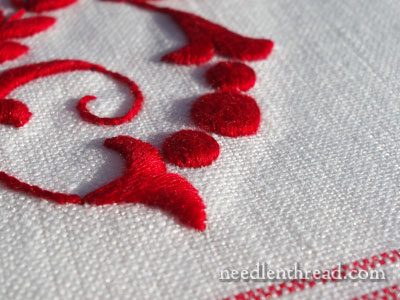 This is the thing about satin stitch: it can look Really Good on an embroidered piece, or… it can look Really Bad. But this good or bad doesn't necessarily have to do solely with the skill of the embroiderer. Often, the outcome of satin stitch (and with any embroidery, really!) depends upon the materials used. Are you using the right materials to achieve the look you want? That's the question.
As far as threads are concerned, almost any thread can be used to make a beautiful satin stitch. Cottons such as coton a broder and floche (floche is used in the photo above) create particularly nice satin stitches when worked on a firmly woven fabric like a very high count linen, cotton, or cotton sateen.
Regular stranded cotton can be used to create a very nice satin stitch as well. But the key to achieving a smooth stitch is using one strand of cotton floss and covering small spaces. Trying to fill up a large area of satin stitch with multiple strands of stranded cotton generally turns out a satin stitch that looks ruffled, lumpy, and loose.
Wool makes a lovely satin stitch.
Crewel yarns require a tightly woven fabric to bite into – linen twill, high count linen, and medium count linen (30's and higher) lined with muslin will work well with crewel yarns. But … there's another key to achieving a nice satin stitch when working with crewel threads. The needle must be right! A large crewel needle or chenille needle (larger than you think – a size #22 chenille, for example, is a Big Needle, but it's ideal for working with one strand of crewel yarn) will help the yarn pass through the fabric without the stress that can cause pilling and fuzziness which flaws the look of the stitch.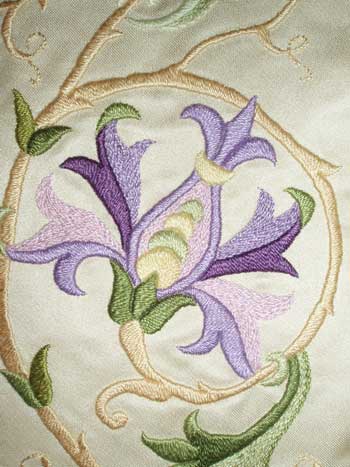 Silk, of course, makes a Gorgeous satin stitch, whether working with stranded spun silk (as in the photo above)…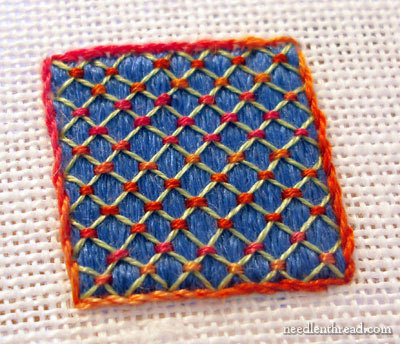 … or flat filament silk, behind the lattice work in the photo above…
… or twisted filament silk.
Whether using a fine silk, wool, cotton, or even metal threads, you always consider your fabric when working satin stitch in surface embroidery. The stitches must have something that holds them in place, and a loosely woven fabric just isn't The Thing. If you think your fabric may be too lose to hold your satin stitches in place, then you need to back the fabric with a tightly woven muslin or linen.
Specialty threads like Gilt Sylke Twist can achieve a gorgeous satin stitch effect. Gilt Sylke Twist is a "precious" thread – it's somewhat expensive, and the original colors it came out in are not here forever, so once they're gone, they're gone. So to use it sparingly, instead of doing a proper satin stitch (where the thread crosses the length on the back as well), you can achieve a satin-stitched look by "laying" the stitches (coming up in your fabric right next to where you went down, to start the next stitch). This may not be "Satin Stitch Proper," but it falls under the general umbrella of satin stitches.
Metal threads can be used for a satin-stitched effect. Again, not "proper" satin stitch, and in fact, in the technique in the photo above, the metal thread itself never passes through the fabric at all. Instead, it is couched on each side of the card padding and then turned back to make another pass over the card padding, and then couched again on the other side. But the look is Satin Stitch, so we'll put it under the umbrella, too.
Some very fine metal threads can pass through the fabric, as they do in this project above. The design is stitched in a #1 silver Japanese thread, which is a very fine thread. It's satin stitched over felt padding (on the thicker parts) and over tissue paper.
While this doesn't cover ever type of thread on the market, you can see that just about any type of thread can take on the satin stitch.
It really is one of the most beautiful stitches, isn't it?
What about you? Do you like satin stitch? Do you ever have any trouble with it? What are your biggest challenges when working satin stitch? If you could learn one thing about satin stitch, what would it be? I'd love your input! Leave a comment below if you'd like to add your two (or more) cents' worth!
Enjoy your weekend! And don't forget about the woad-dyed crewel wool give-away going on until Monday – if you haven't signed up, do! The comments have been great fun to read!