For your browsing pleasure, here are a few needlework-related articles, resources, and fabulous things that have caught my attention lately. Perhaps within the mix, you can find something that is particularly interesting or useful or inspirational for you, too!
Academic
Let's start with the academic, just so we don't feel as if we're wasting time!
Over on Orkneyjar – a website devoted to the heritage of the Orkney Islands – you'll find a fantastic article about the Orkney Hood, a "fringed, woollen cloak" over 1,700 years old that was found buried in the peat of the islands, and which has since been recreated in order to determine the techniques involved in its original construction. If you like the subject of historical textiles, you'll find it interesting reading!
Please don't take any moral from the tale – don't, for example, go burying your needlework in your backyard… unless you happen to live in the Orkney Islands, where the peat is particularly good.
Resources
Over at the Digital Archives of Documents on Weaving and Related Topics (which is an online archive of all kinds of textile-related books, including a good collection of books related to needlework), you'll find some recent additions to the collection. Look for the bright red dates in the catalog – these indicate books added since August, 2011. There are a heap of lace-related books recently added. Among them, I found these two to be particularly instructive:
You'll find Teneriffe Lace Designs and Instructions (direct link to the PDF) among the recent additions.
And you'll also find the Priscilla Battenberg and Point Lace Book (direct link to PDF) newly added. This latter books has some very clear instructions on certain elements in needlelace – for example, making picots – so it's definitely worth the browse, if you like needlelace.
It's always fun to browse through the Digital Archives – but be warned! The hours can really slip by!
Inspiration
And now, for dessert.
Elisabetta has been monogramming handkerchiefs, and she has a lovely article with photos of her recent work. They are so pretty! And the photos (and her blog, Elisabetta's Ricami a Mano) are really a pleasure to browse through. If you don't read Italian, you can use Google to translate.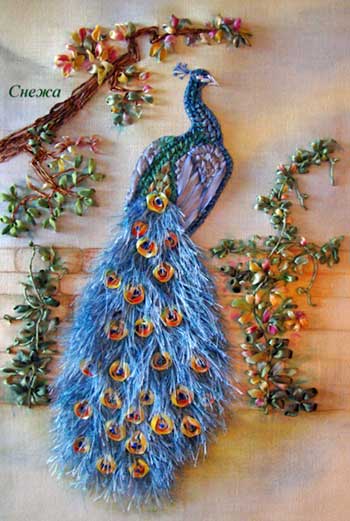 And finally, you must go visit Di van Niekerk's blog to see up-close photos of this incredible peacock in ribbon embroidery. You must see it. The whole thing is gorgeous, but that tail…! I love the tail! Go look! You can click on Di's photos for enlarged views of the piece.
I hope you have a swell weekend, and that you have time to bond a bit with your needle and thread!