Ahhhh – the Twelfth Day of Christmas! The series comes to an end!
Are you sighing with relief? Or holding your breath in anticipation?
Well, here is the final gift:
Inspiration.
And I mean that figuratively and literally.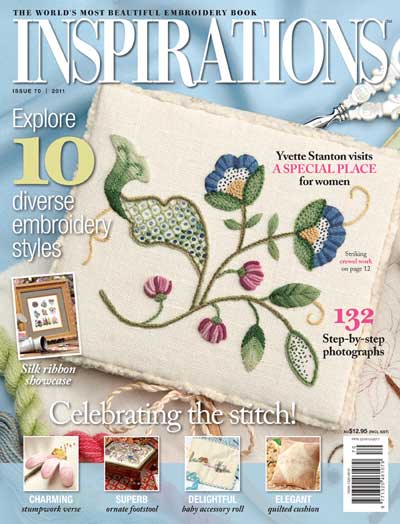 Inspirations Magazine is really just what it claims to be: it is the world's most beautiful embroidery book. See, it's more than just a magazine.
Published quarterly, each issue of Inspirations is like receiving a new embroidery book in the mail. Each issue contains numerous beautiful embroidery projects that range in levels of complexity (some are easy, some are intermediate, some are more challenging), and along with each project presented in the issue are all the the instructions to complete the project, including lift-out patterns, stitch diagrams, finishing instructions, supply lists – everything you would expect in a really good embroidery kit, except the actual stitching materials.
Inspirations Magazine features all types of embroidery: goldwork; crewel embroidery; free-style surface work; ribbon embroidery; redwork; whitework; blackwork; silk shading & long and short stitch needle painting; regional and ethnic embroidery; bead embroidery; tambour work; embroidered boxes; embroidered accessories, needlebooks, and so forth; embroidered clothing; embroidered blankets and household linens and baby goods. All of these categories and more have been featured in Inspirations.
The projects are conceived and executed by designers from around the world, and the variety of needlework projects within the pages of Inspirations is practically endless.
In addition to needlework projects, the magazine also contains plenty of good reading, all needlework-related. There are human interest stories, reader contributions, book and product reviews.
The Intangible
Those are the "tangible" things in Inspirations. but there is something else every issue offers that can't be measured, touched, or necessarily seen. And that something is Inspiration.
My relationship with Inspirations Magazine started with their first issue. I was home for a break from college and visiting my sister. She had bought the first issue at a sewing store, and had subsequently subscribed to the magazine. Being broke and being in college, I couldn't afford the magazine, but that didn't keep me from "acquiring" it.
I just pinched my sister's copies!
Up to that point, my relationship with embroidery was more or less as a dabbler. I had seen very little needlework commonly available in America beyond counted cross stitch and a little heirloom sewing and smocking. But I yearned to learn the surface embroidery techniques that I saw on pieces in museums, in art books, in publications. When I came into contact with Inspirations Magazine, it was the first time I had been exposed to the whole gamut of surface embroidery techniques. Within the pages of Inspirations, I found just what the title promised: inspiration.
The Give-Away
I love Inspirations – and I wanted you to have an opportunity to love it, too. So I asked them if they wished to contribute to the 12 Days of Christmas series here, by contributing a year's subscription to Inspirations to the series.
They said Yes! But instead of one yearly subscription, they'd contribute two one-year subscriptions.
This means two of you have the opportunity to win a free one-year subscription to Inspirations Magazine. If you already subscribe to the magazine and you win, that's ok! They'll add the free year to your current subscription.
Give-Away Instructions
Today's two Twelfth Day of Christmas give-away winners will each receive one free year's subscription to Inspirations Magazine. Please follow these instructions:
1. Leave a comment at the end of today's article. If you click on this link, it will take you directly to the comment area, so that there are no mishaps! Comments delivered via e-mail or on other articles will not be included in the give-away.
2. In your comment, answer the following question:
Where do you find inspiration for your needlework?
3. Make sure you leave a recognizable name either in the body of your comment, or on the "name" line above the comment box.
4. Leave your comment before January 9th, 2012, at 5:00 am Central Standard Time (Kansas, USA!). All winners for this series will be selected on January 9th, and announced that day here on Needle 'n Thread. You'll have to check back on January 9th to see if you've won, because the winners will need to contact me within 3 days to claim their prizes. The Give-Away is Now Closed. Thanks for your interest!
Merry Twelfth (and Last) Day of Christmas!
Remember that all comments must be in by this coming Monday, January 9th, at 5:00 am CST. That means that you only have a few days to enter for the free subscription to Inspirations, as well as to catch up on the other 12 Days of Christmas give-aways and leave your comments! Tomorrow, I'll recap the series and tie it up with some additional information.
Please do not panic if your comment does not show up immediately. All comments are moderated in the order in which they come in, and they will eventually be posted. Sometimes, this takes a little while because I am not able to moderate comments around the clock. If you are looking for your comment, please use the "older comments" and "newer comments" links at the top of the comments section. These will take you through all the comments pages, from newest to oldest.