I love my new Millenium needlework frames. (That's a link to my review, if you're not sure what the Millenium frames are and you'd like to read about them.)
It was one of those love-at-first-try sort of situations. I set up the frame the first time and was completely twitterpated. It was so easy to set up a large project: no tacking, no sewing and lacing up a slate frame. Oh wow. I was really besotted! But I knew that infatuation doesn't always last, so after working with the frame for a couple weeks (and calming down a bit), I sat back to re-assess my first impressions.
And they didn't change. The Millenium frame is a magnificent tool!
And today, courtesy of the folks at Needle Needs, you have the opportunity to win one of these wonder-tools yourself!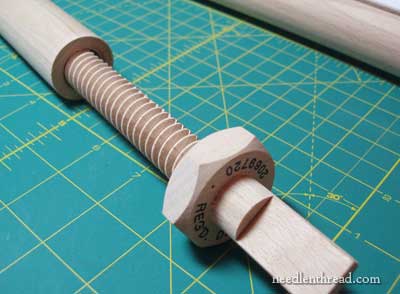 This give-away includes 16″ roller bars (these are the top and bottom horizontal bars, around which you can roll longer pieces of fabric) and the 8 – 10″ side stretchers. This is a good size frame for medium-sized projects. It's not huge – the maximum width of the project would be 16″ – but the project can be much longer than the 10″ side stretchers seem to dictate, because (as long as you aren't doing goldwork or stumpwork) you can roll your fabric around the top and bottom bars of the frame.
I've been using the Millenium Frame almost daily for a couple months now, and along with it for the past month, I've been using the Necessaire floor stand. (You can read my review of the Necessaire floor stand here, if you like.) Every time I sit down to stitch with them in front of me, I am thankful for them – for their beautiful craftsmanship, for their ingenious design, for the ease and convenience they offer. For me, they are the ideal stitching set-up.
To see how the frame works and how easy it is to set up, feel free to stop by the Needle Needs website, where you'll see a demonstration video on the home page.
I could go on and on and on about the frame especially, but I won't! Methinks many of you may be quite eager just to get on with the give-away business on this one!
Give-Away Instructions
Today's Eleventh Day of Christmas give-away winner will receive one complete Millenium frame, as described above, courtesy of Needle Needs and shipped from the UK.
1. Leave a comment at the end of today's article. If you click on this link, it will take you directly to the comment area, so that there are no mishaps! Comments delivered via e-mail or on other articles will not be included in the give-away.
2. In your comment, answer the following question:
What aspect of the Millenium Frame attracts you the most? Is it the quality craftsmanship, the convenience it offers, the fact that it's a "new" gadget to try, the idea of a good needlework frame in general?
3. Make sure you leave a recognizable name either in the body of your comment, or on the "name" line above the comment box.
4. Leave your comment before January 9th, 2012, at 5:00 am Central Standard Time (Kansas, USA!). All winners for this series will be selected on January 9th, and announced that day here on Needle 'n Thread. You'll have to check back on January 9th to see if you've won, because the winners will need to contact me within 3 days to claim their prizes. The Give-Away is Now Closed. Thanks for your interest!
Merry Eleventh Day of Christmas!
Please do not panic if your comment does not show up immediately. All comments are moderated in the order in which they come in, and they will eventually be posted. Sometimes, this takes a little while because I am not able to moderate comments around the clock. If you are looking for your comment, please use the "older comments" and "newer comments" links at the top of the comments section. These will take you through all the comments pages, from newest to oldest.
Also, just another little note – though rather late in this whole give-away series – please don't leave your e-mail address or residential address in the body of your comment. It's just not a good idea to expose your addresses to the world. If nothing else, you probably don't want to end up with a bunch of spam in your inbox. Just use the line provided in the comment form for your e-mail address. Thanks!