Cheating at hand embroidery – how to give the impression of hand embroidery, without really hand embroidering, and yet still call it hand embroidery. In a sense, this is what the once-popular "coronation cord" does.
There are certain types of stitchery that could be considered, in a way, "cheater" embroidery. Today, I'm going to show you one of them, by looking closely at an antique tablecloth. Then we'll chat a bit about the technique and its history and uses, and then I'll give you some resources.
By the way, by calling it "cheater" embroidery, I'm not saying it's a bad thing. The effects of coronation cord can be lovely!
Check out this wonderful textural embroidery on this antique table cloth. We talked about vintage linens the other day, remember? I was so happy to get my hands on this piece, and not because it is exceptionally elegant. Not because it is exceptionally fine. Not even because it's linen – because it isn't.
This is a highly textured, somewhat coarsely embroidered table cloth made out of very heavy cotton. It's a regular weave cotton, not a twill. It's reminiscent of cotton duck, though with a bit more drape than today's cotton duck.
Yes, it's heavy. Yes, it's coarse. But it's…. oh, yes. I like it. I love the texture. There's a certain charm in its coarseness. It is an everyday "dress up" tablecloth, with something a little incongruous in its parts, but strangely, it all works.
Here, you get a partial view of what the piece is – a barely round cloth, edged with a bold crocheted edging, and embroidered with a bold and chunky design incorporating a basket of flowers, some lattice work, some scrolly stuff, lots of French knots, and a flower motif.
It's the stuff that makes up the flowers that grabbed me. Notice how the petals look as if they're made out of an ongoing line of strung-together cocoons?
And there they are again – those wobbly flower petals that jump off the fabric in a kind of relief, striking in their texture and in the shadows they cast.
Here they are, close up – those wondrous "cocoon strings," manipulated into abundant, bold flower petals.
If you didn't know what you were looking at, and you were not examining the piece up close, you might be tempted to think that the embroiderer undertook to stitch the flowers in some strange and bulging "trailing" technique (satin stitching over cord) and worked all those petals that way. But in fact, the stitcher cheated. What might look like satin stitch (albeit lumpy, in a regular sort of way), is actually applied cording, called coronation cord, or sometimes rice cord. Coronation cord is an overcast cording that looks a lot like little cocoons all strung together. When described that way, it doesn't sound too pretty, does it? But some very interesting effects can be achieved with coronation cord.
Coronation cord is not properly "embroidery" – the thread doesn't pass through the fabric in any specific type of stitch to form the decoration – but, when used on the surface to adorn linens, it's often called "coronation cord embroidery." It falls into the same category as soutache embroidery, which is actually adornment of fabric by couching braiding onto it in intricate patterns.
Coronation cord is something that I tend to keep an eye out for when I'm looking at vintage linens. I don't know why I'm so attracted to it, but I do find it fascinating, and I like to find linens that incorporate it.
Besides the coronation cord on this particular piece, there's quite a bit of other embroidery, too.
This is, if I have ever seen one, a perfect circle of perfect knots. Such uniform, chunky knots – all so evenly spaced, all so consistent in their size. Each flower center on the cloth (there are six large flowers on the whole cloth) is made up of patches of knots just like these, and each patch is perfect. The knots are colonial knots (as opposed to French knots). And they are very nice knots indeed!
On the back of the cloth, you can see the back of the round of knots that work out into a kind of spiraling circle. All around that area, you can see some longish threads that seem to move haphazardly all around the cloth. That is the couching thread used to secure the coronation cord.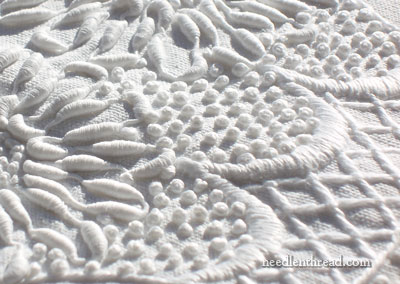 You can see that the other stitches used in the project include satin stitch, which is nicely padded and executed, lattice work (for the basket), and a bit of outline stitch and some other satin stitch in the form of satin stitched dots. There's a lot of bold work done on this piece – it is not "fine" embroidery. If it were worked on a cotton sateen using a non-mercerized thread, it would remind me of a take-off on Mountmellick embroidery.
With all those knots, it also reminds me a bit of candlewicking. I can imagine the stitcher, used to doing candlewicking, saying to herself, "You know, self, I'm going to incorporate some other stitches into this project – and maybe some of that weird looking cord." The thread reminds me of thicker candlewicking thread. There is no fine embroidery floss on this piece, nor any typical perle cotton or cutwork cotton.
Coronation Cord: History & Images
Coronation cord meandered into popularity at the end of the 1800's and only enjoyed a short stint in the lime-light, waning in popularity around the 1920's. It is probably better known by its uses in crochet and tatting projects, and in fact, it's more common to find it on vintage linens as part of a tatted or crocheted edging and insert.
If you'd like to see coronation cord used as part of tatting, crochet, or other "lacy" type elements, take a look at these links:
At Cate's Linens, you'll see coronation cord used as part of the edging on a linen, and also marking out (in color) a whole design on a pillow case.
If you hope over to Etsy, you'll see coronation cord making up part of an insertion design.
You can check out a lacy piece heavy with coronation cord at Tatting and Other Craziness.
And here are some links to articles that have photos of coronation cord as a primary element in embroidery:
There's a gorgeous linen embellished with irises worked in Coronation Cordon Yarn Journey. This is one of the most attractive examples of coronation cord embroidery I've seen.
This already-sold antique table cloth on Etsy, which features baskets and flowers worked in coronation cord, is worth taking a look at. The flowers are similar to those pictured at the beginning of this article.
There's another nice linen centerpiece decorated with coronation cord on Pretty Petals – just scroll about half way down the page.
You can occasionally find linens adorned with coronation cord through vintage linen dealers. If you search eBay for "coronation cord" right now, there are a couple nice examples on there.
Coronation Cord: Online Resources & Further Information
And if you'd like to see some instructional content from the early 1900's that includes coronation cord, you'll find a few blips on the subject in the following books, which are available free online:
Coronation Cord in Priscilla Tatting Book No. 2 on Digital Archives(PDF)
Home Needlework Magazine, August 1914 on Digital Archives (PDF) – coronation cord in crochet and tatting, also some information on cord embroideries.
Home Needlework Magazine, Nov 1914 on Digital Archives (PDF)
You can also find some more information on coronation cord on fabrics.net, where there's a little history of the stuff.
You can find some further reading on Coronation Cord here on Needle 'n Thread, with a comparison of vintage coronation cord with coronation cord made today.
Coronation cord dropped out of popularity in the early 1900's and it hasn't really regained that status, so finding coronation cord at any typical needlework retail shop is a difficult proposition. Sometimes, you might run across vintage linen dealers selling it by the yard (for rather overrated prices). However, you might find it new at specialty shops that have a concentration of lace-making supplies. If you're looking for it online, Lacis carries it for a reasonable price in 2 yard put-ups, or by the foot.
Tags