Last week, when I mentioned some needlework books that have just hit the US market, I also announced a give-away of Carolyn Pearce's book, Home Sweet Home: An Embroidered Workbox, and today, I'll announce the winner!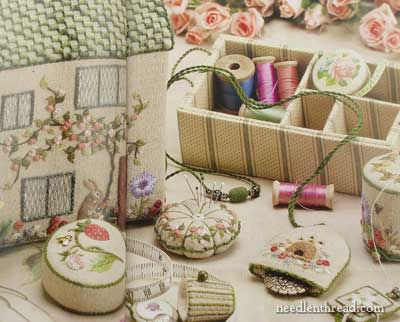 Home Sweet Home is a lovely book full of little projects that all work together to make up a complete embroidered workbox. Every accessory you'd like for your needlework tools and goodies can be found embroidered and embellished in the most darling ways in this book – and the nicest thing about the book is that you use Carolyn's design as it is, adapt it to your own interpretation (using your own thread selections and so forth), or adapt the instructions for constructing all the items, to completely customize your own workbox and accessories. It's a great instructional book! You can read my full review of Home Sweet Home: An Embroidered Workbox, if you'd like to know a little more about it and see more pictures of the contents.
The winner? Cathy Harvey!Congratulations, Cathy! Please drop me a line with your mailing info, and I'll ship that out to you today!