I have A Thing for vintage linens, and when I find a good source of vintage or antique linens (i.e. someone who is meticulous and careful in the care and presentation of them) that offers reasonable prices, I always bookmark the source so I can come back to it now and then and check up on inventory.
Lately, I purchased some antique and vintage linens that I'd like to show to you. Some, I bought as gifts. One, I bought because it is pretty interesting – it's pretty, but a bit rough and not your typical "fine linen." But more on that last one later! Today, some doilies – three gorgeous examples of the combination of linen and crocheted lace.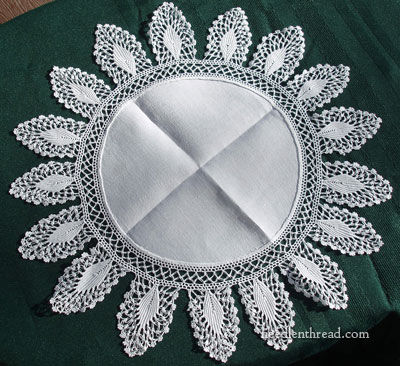 This piece is comprised of about an 8″ circle of very nice linen, surrounded by a 4″ edge of crocheted hairpin lace. The piece – about 100 years old (1900-1930) is in perfect condition – nary a flaw to be seen!
Note: Many readers have pointed out (see the comments below) that the description on the lace was incorrect, and that this is more likely a technique in Irish crochet called Solomon's knot. This makes more sense, especially considering the densely crocheted points on the lace. Thanks for the input of you expert crocheters out there!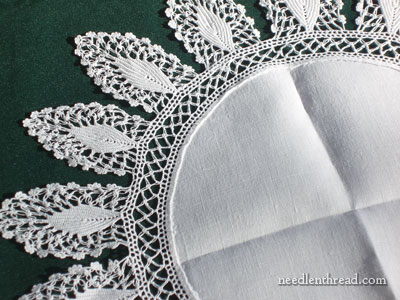 Hairpin lace is a crocheted lace, made with a crochet hook and a hairpin loom. The hairpin loom looks pretty much like its namesake: it's a u-shaped tool with two parallel "bars" around which the thread is wrapped as it's crocheted, to keep even and consistent spacing on the long spider middle threads of the pattern.
Today, it's more common to see hairpin lace in "fluffier" crochet. I've never seen hairpin lace this fine or well executed. (Probably because, as noted above, it isn't hairpin lace after all!!!!)
So that is one linen doily I picked up lately. It's an anniversary gift – it was supposed to be delivered already, but I can't seem to make myself package it up and give it away!
The other two doilies are a matching set, and they're significantly smaller, made around about a 5″ circle of linen. Again, they're surrounded by crocheted lace, but this time, it's regular crocheted lace. They're dated as well around 1900 – 1930.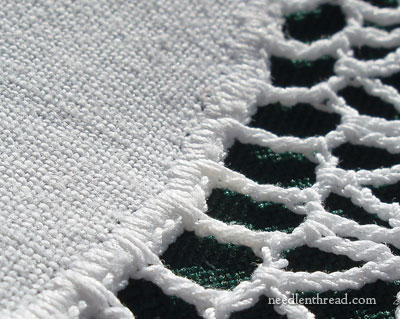 The crochet is actually worked into the linen, and crocheted in rounds, as you'd work a pineapple type pattern for a full crocheted doily.
The thread is quite fine – finer than the #20 that's common today for this type of crochet – and the pattern is lacy, light, and lovely.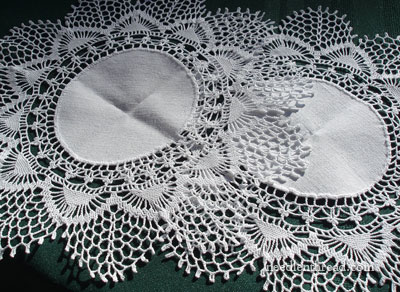 I'm not quite sure what I'll do with these two pieces. I tend to stockpile vintage linens, thinking I'll give them as gifts throughout the year, and these will definitely make a good bridal gift or Christmas present or birthday present at some point in 2012. The trick is parting with them!
I picked up these pieces from The Alley Rose, where you will find some gorgeous linens, meticulously cleaned and cared for and beautifully presented. The greedy, hoarding half of me was loathe to share the link, especially because there's this One Piece on there that I am longing for with Great Longing, and I fear if I tell too many people about the place, someone else out there is bound to fall in love with it, too, and snatch it up! But then I thought, what the heck? That's life – and how could I not share a good thing with the rest of you?
So, if you love antique linens, check out The Alley Rose. And while you're there, pop in and take a look at this Battenburg Needlelace centerpiece, which is stunning, stunning, stunning.
*Sigh*
Stunning.
So what about it? Do you like vintage and antique linens, or am I a nut to get swept away by these things? If you, like me, tend to pick up a vintage piece here and there, what do you do with yours? Do you use them? Give them as gifts? Keep them for special occasions? Have you really made a Really Good Find that you couldn't pass up? I'd love to know! Feel free to leave a comment below!
Tomorrow, I'll announce the winner of the Home Sweet Home give-away, so if you haven't signed up for it, don't forget!