Sorry. I don't know where that post title came from. I had a writing instructor once who warned us of over-using alliteration. He said it could often come off as a Cheap Ploy. And in this case, I'm sure it does!
Since it's Saturday, and since I know we're all (I am) avoiding those things we tend to do on Saturday – like running errands, doing laundry, getting the house in order – I thought I'd give you an excuse to relax with a cup of coffee and browse through some neat needlework stuff.
I'll start with this because it's so colorful – perfect for a Saturday morning wake-me-up. On Facebook, there's this wonderful album by Magyar Kincsestár labelled as Hímzésminták, which translates as "Embroidery Pattern." Definitely worth visiting! If you don't have a Facebook account, you might have to sign up for one (unfortunately), but if you like folk embroidery, you'll find it worthwhile!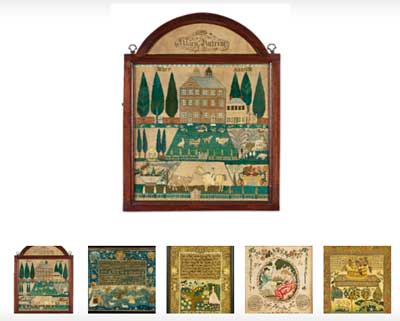 Big news in the needlework and art and auction world! Over at Sotheby's, the Betty Ring Collection of samplers went on auction last week, collecting enormous prices. The catalog is still up and able to be browsed (you can zoom in on the images and get a good look at them), but who knows how long it'll be online – so if you have a hankering to see the samplers up close and personal, this could be your last opportunity! Definitely worth browsing, especially if you have any interest in historical embroidery & textiles, samplers, or American history.
Up in Buffalo, NY, a hidden treasure has been unearthed, in the form of an elaborate reliquary, and unlike most reliquaries seen in churches or museums, this one is embroidered. The goldwork and embroidery that makes up the reliquary is quite stunning, and the design – incorporating a calendar of saints for all 365 days of the year – is striking.
If you're out and about this weekend and can pop into the Victoria & Albert Museum in London (if you can, you're a lucky duck!), take the opportunity to see the world's largest piece of cloth woven from the silk of the Golden Orb spider. The cloth itself is beautiful. From now until the 5th of June, you'll find the woven and embroidered silk cape and brocaded shawl made solely from spider silk on display. And if you can't get to the display, do at least watch the video on the Golden Spider Silk Cape – that's where you'll see fantastic close-ups. And all from (eeeeeeeewwwww….) spiders!
Well, as much as I've enjoyed this Saturday morning chat, my tea cup is empty, the laundry calls, and I must answer!
I hope you have a terrific weekend!
Tags