This morning, I thought it would be nice to slow down a bit and just look at some beautiful pieces of embroidery. To that end, I'm going to share with you some needle painting embroidery projects worked by Margaret Cobleigh.
Margaret's the gal who will be teaching needle painting class here on Needle 'n Thread in March. She's one of those stitchers who has perfected her needle painting skills by adopting and adapting the techniques of good teachers, and then agglomerating them all into her own style, in her own projects.
These are some of the projects Margaret has stitched over the years. You'll recognize a good many of them, as many are (or have been) available in kit form from teachers such as Trish Burr and Tanja Berlin.
We'll start with one of my favorite pieces that she's stitched – Trish Burr's Spartan Iris.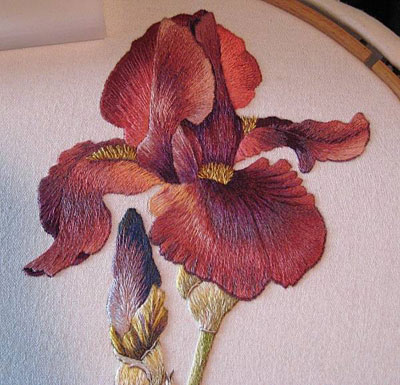 It is a Beauty! I love the ripples on the right side and left side of the large front petal.
Although Trish doesn't sell kits for the Spartan Iris anymore (it's available as a project in her Colour Confidence book), you can find the kit for the Spartan Iris still available through Nordic Needle.
This is Margaret's resurrection of a "Society Silk" design from A Treatise on Embroidery with Twenty Color Illustrations from Original Models, Art Needlework Series No. 8 by M. Heminway & Sons Silk Company. You can find this book online over on Antique Pattern Library, and a review of it here on Needle 'n Thread. You can also find the pattern for Margaret's carnations here on Needle 'n Thread, as well as some information on how she embroidered them.
This is Tanja Berlin's wild rabbit needle painting project – I absolutely love this little guy! The kit for the wild rabbit is available through Tanja's website.
This is Trish Burr's blue bird, which is included in Trish's DVD set, The Long and Short of It.
I love his little eye!
A pretty little violet, a la Trish Burr…
… and some lovely pansies, also designed by Trish Burr.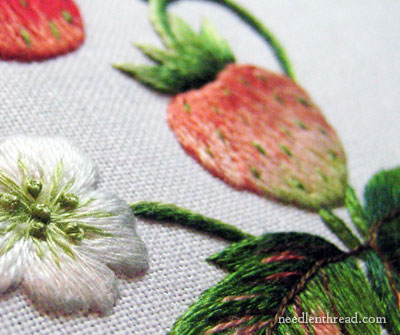 The online class Margaret will be offering in March is from her developing series of resurrected designs, in particular this little strawberry bunch. I'm thinking I may have to take the class. Not only do I have a penchant for strawberries, but I absolutely love the coloring in this project.
So there's some embroidery "eye candy" for you – just a little touch of color for your day!
See you tomorrow!