There are two hand embroidery treasures that I have locked up in a dark box, in a dark closet, wrapped safely in tissue paper, awaiting The Day, The Moment, the Ideal Time. This hank of Japanese Real Gold Thread is one of those treasures.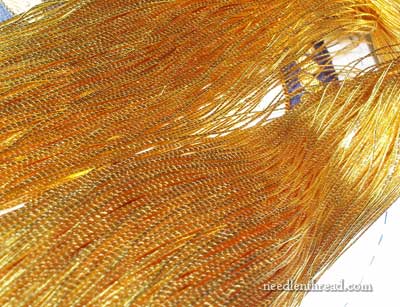 The other treasure is a similar hank, only a finer thread. They're the only elements in all my supplies that I consider truly precious. Golum could not consider them more precious!
This particular hank of gold thread is my favorite. Photos just don't do it justice! It is real gold thread – 18 karat gold, beaten thin, applied to a paper backing and wound on a silk core. I bought it from John Marshall a few years ago. He bought it from a Japanese weaving house that was closing. The threads were made somewhere around the 1970's.
And they just don't make 'em like they used to!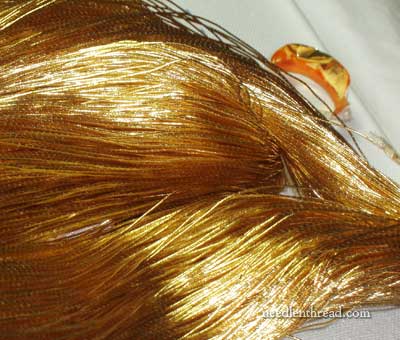 This stuff is gloriously gold, gloriously gorgeous.
I do love it so.
But what is the point of hoarding this much gold thread in a dark box, in a dark closet, wrapped safely in tissue paper?
I've told myself time and again that I would use it Some Day.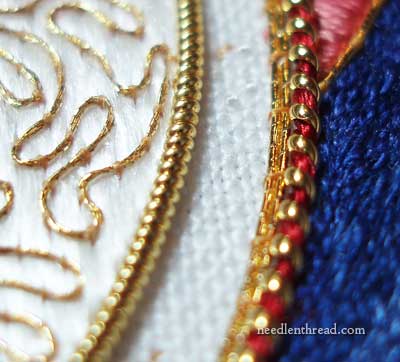 I do believe Some Day has come!
I'm using it on the Medallion Project – which you can read about by visiting the Medallion Project Index. I'll have a more colorful update for you later this week!
If you'd like access to all the tips and techniques discussed in the Medallion Project, including complete step-by-step coverage of the Tudor-Style Rose, conveniently collected in one document, interlinked, referenced, and indexed, why not add the Marian Medallion Project e-book to your library? It's packed full of all kinds of embroidery tips for undertaking a project like this, all in a convenient electronic format for easy searching.