Today, I'm going to point you to a resource for free Jacobean embroidery patterns and fillings. I've pointed out this free online embroidery book before, but it's been a few years, and many of you might not know about it.
I've been playing with Jacobean Embroidery: Its Forms and Fillings by Ada Wentworth Fitzwilliam and A.F. Morris Hands lately. I'm not working up anything particular to embroider. It's just that I really like the drawings in this book.
It's a great book to browse through if you're trying to develop ideas for your own approach to a Jacobean-type piece of embroidery.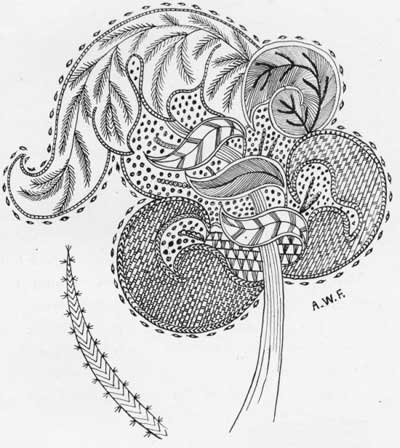 Keep in mind that, although we often associate "Jacobean" embroidery with crewel work (which is wool embroidery) or with 17th century stitching techniques, Jacobean embroidery does not have to be worked in wool at all and it is not a stitching technique. "Jacobean" is a style (associated with the look and design of things).
If you think of particular embroidery techniques, you'll find that many techniques dictate the type of materials and stitches you use, to achieve the results of that particular technique. So, explore Hardanger embroidery, and you'll find you need to use even weave fabric and usually tightly twisted, non-divisible threads and a certain set of stitches. Or explore Mountmellick Embroidery, and you'll be told that Mountmellick is worked with a specific set of materials: white cotton sateen fabric and non-mercerized white threads, with a certain set of stitches. Explore goldwork and you'll find specifics there, too. So techniques often dictate materials used and it definitely dictates stitches used.
But styles (i.e. design styles) don't. Jacobean refers to a style, a look typical of the Jacobean era (early 1600's) in England (named after James I, or Jacobus, which is Latin for James).
Jacobean styled embroidery can be worked in any type of materials that float your boat, with any type of stitches that float your boat – as long as you aren't trying to be historically accurate.
So, for those who are inclined to think 1. that Jacobean work is always done in wool; or 2. that crewel work is always Jacobean in design, or 3. that a Jacobean design must be worked in stitches typically used in the 17th century in order for it to be "Jacobean," just remember that Jacobean ≠ crewel necessarily, and crewel ≠ Jacobean necessarily. Crewel and Jacobean are not synonymous terms and they can't be used interchangeably. Also, remember that Jacobean ≠ 17th century stitchery, necessarily.
For those of you who like the look of Jacobean design, but prefer working with modern materials (stranded cotton, stranded silk, beads, etc.), or don't like working with 17th century stitches, don't worry! Don't be intimidated into thinking that if you're stitching something Jacobean, it has to be worked in historically accurate materials, or in historically accurate stitches. It's just a style. You are perfectly free to mimic it and interpret it and modernize it in any way you want to. Keep in mind, I'm not talking specific 17th century stitchery here. If you want to do historical replicas of embroidered objects from the 17th century and you want them to be accurate, sure, you have to conform to a set of previously determined (by history) stitches, colors, and materials. But if you're just taken with the style itself, you're free to do whatever you want with it!
So, if you like the Jacobean look and want to do a little playing around with it, browse through Jacobean Embroidery: Its Forms and Fillings. It's free online at Project Gutenberg and available in many formats.
I intended to have something else up for you today, but as luck had it, I forgot to upload it to my server before heading out. Blogging from afar has its disadvantages! But since this topic of "Jacobean" has come up quite a bit lately in discussions and e-mails and questions and so forth, I figured I'd point out this resource again for those of you who haven't seen it, and clarify some points about what "Jacobean" actually means.
If you have any questions, comments, input, suggestions, or whatnot, feel free to have your say below!
Enjoy your weekend! I hope you get in a goodly bit of time with your needle and thread! Gee, come to think of it, I hope I do, too!
Tags