The thread junkie in me has been bubbling about with excitement, and the only thing for it is to share with you some new thread colors!
I'm always excited when I see new colors of my favorite threads appearing on the market. When a line of hand embroidery threads expands, it's a good sign! Two of Au Ver a Soie's threads are currently enjoying a nice expansion of colors – Soie de Paris and Soie Ovale.
These are some of the new colors of Soie de Paris coming out. Soie de Paris is a twisted filament silk. It has a beautiful sheen, and is a fine thread, great for detail work. It stitches up wonderfully in long and short stitch and satin stitch. It's the silk I used for this Tudor-style rose, and I'm thinking about using it for another project this year, too. I love stitching with this thread!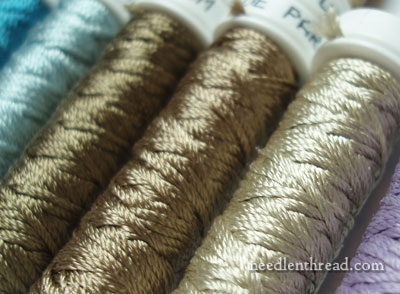 It's thrilling to see the addition of more browns and neutrals to the collection! Are you thinking, "Brown? Why is Brown exciting?" Brown, you see, is such an under-appreciated thread color. Without it, though, both depth and realism that would be missing from works of hand embroidery! No, no, we can't do without browns and neutrals, and the more the merrier, I say!
The new woad-ish blues are gorgeous, too, and so perfectly "stepped" for shading. I believe there are more coming out, and I can't wait to see all of them lined up together happily!
Soie Ovale is a flat filament silk. Flat silks have little or no twist and a hyper-sheen. They are the sheeniest of silks! (No, not a word – but it works!)
You'll notice that the expanded colors correspond with those of Soie de Paris, and again, all the new colors haven't rolled out yet, so I'm sure we'll see a few more added to the collection soon. I can't wait! There's rumor of some greens coming out that sound quite delectable!
When a thread line fills out with more colors and shades, the stitching possibilities expand exponentially! And that's why I'm so excited about these – and eagerly awaiting the unveiling of future colors, too.