Ruth Chamberline's Beginner's Guide to Goldwork (which I reviewed about five years ago) is an excellent instructional book in silk and goldwork embroidery. Meandering through my bookshelf the other day, I took the book out and started browsing through it. Next thing I knew, I was reading it again, cover to cover. It's a terrific instructional book!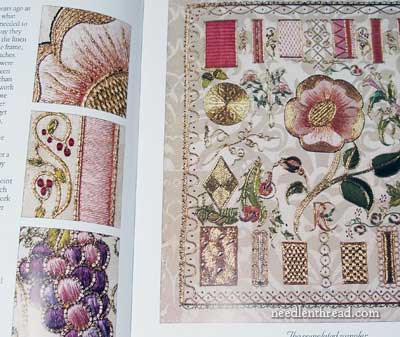 While Beginner's Guide to Goldwork does not cover every aspect of goldwork, what it does do is introduce the embroiderer to the wonderful world of goldwork and silk embroidery in a most beautiful, pleasant, and clever way. Ruth uses a gorgeous silk and goldwork sampler to take the reader through various approaches to goldwork embroidery, most of which focus on working with couched goldwork threads.
All the basics for beginning goldwork embroidery are covered in the book – from choosing the right materials to framing up fabric, transferring designs, and so forth.
The instruction in the book revolves around the different elements of the silk and goldwork sampler, with clear illustrations and explanations along the way.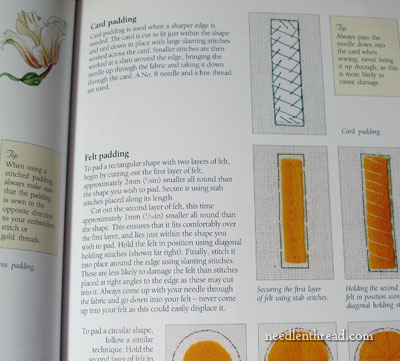 There's plenty of instructional stuff in here to get you started in the basics of combining silk and goldwork!
And of course, there are beautiful pictures of beautiful embroidery. (I do love beautiful pictures of beautiful embroidery.)
So, to celebrate finishing the end of the Medallion Project and to help spread around a wee bit of Goldwork Affection, I'd like to give away a copy of this book. If you don't have it yet, you'll find it a great addition to your reference library. I promise!
To enter the give-away, please follow these Really Simple Guidelines:
1. Leave a comment on this article on the website (not via e-mail and not any other article on the website). The easiest way to get to the comment form is to click this link, and it will take you straight to the comments.
2. In your comment, tell us a little about you and your relation with goldwork: Are you a beginner? Or have you tried goldwork embroidery before? What appeals to you most about goldwork? Anything along those lines will do!
3. Please make sure you leave a recognizable name, either in the comment area or in the "Name" line on the comment form.
4. Leave your comment before 5:00 am central time (Kansas, USA), Saturday, June 2nd. I'll announce the winner this coming weekend.
This give-away is now closed! Thanks for participating!
And that's really all you have to do! Crossing your fingers, kissing the computer screen, spitting in the wind, throwing salt over your shoulder – these things are all optional.
If you're hankering to add this book to your own stitching library, fill out the comment form today!
I'll keep my fingers crossed for you.
It may take a little while for your comment to appear, since comments are held in queue before they are admitted to the website (to prevent spam and to give me a chance to read them). If your comment doesn't show up right away, please be patient. It will eventually!
Where to Find It
If you want to add Beginner's Guide to Goldwork to your needlework library, you'll find it available through the following book affiliates:
In the US, you can find Beginner's Guide to Goldwork here through Amazon.
Worldwide with free shipping, Beginner's Guide to Goldwork is available here through Book Depository.