After posting the finish on the Medallion Project yesterday, I received many comments both on the website and via e-mail that were so kind, enthusiastic, and appreciative of the finished project and the whole process of creating the Medallion. Thank you so much! Your comments really cheered me, especially when suffering the inevitable "let down" after a major project! I will do my very best in the upcoming days to answer the questions that are still lingering, especially those involving technique. I have a few instructional tips to share with you still!
Surprisingly, this is the first time I've had more comments via e-mail than on the website. My inbox hosted some 300 e-mail yesterday, and although I'd like to answer them all (haven't yet – still trying!), I've certainly been reading them, and I thank you for sending them!
For those of you who asked specific questions, I made notes, categorized them, and will try to answer them in general here on the website.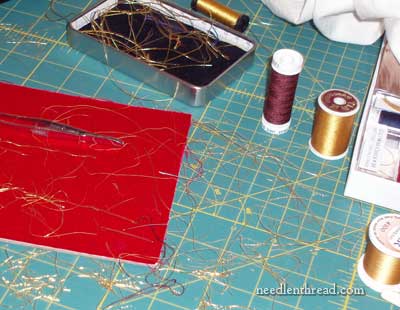 One recurring subject after yesterday's post concerned cost, in one way or another. Many readers asked about the cost of the project overall, many wished to know about substitute materials to reduce the cost of such a project, others wanted to know how I charge for such a project, others asked what I charge for such a project, and still others asked whether or not compensation for this type of project is actually worth the value of the piece of embroidery.
The subject of Cost, in all its facets, is vast! It's something worth thinking about, and it's something I've been wanting to write about for a while. Instead of addressing all facets at one time, though, this is definitely a subject that must be broken down. To reach reasonable conclusions, I think we have to take various paths that finally converge on one concept: Value.
Today, let's take one path: the question of Material Cost. How much did the Medallion cost to make? If you look at the photo above, all the supplies used in this project are within the frame of that photo (some are under the white cloth on the right), with the exception of the ground fabric. Doesn't look like much, does it?
Cost of Supplies
In breaking down the cost of supplies for you, I am not considering the notion of "leftovers" on spools. Below is what a person would have to spend, to have enough of all the supplies necessary to complete the project. When you're working an embroidery project, if you end up with a partial spool of this or that thread at the finish, that's neither here nor there. To get the part of the spool that you used, you had to pay for the whole thing, right? The only exceptions to this are noted in the breakdown below.
Fabric
Linen, Cotton Backing, Wool Felt: approximately $20. The bulk of this is the linen, which is $90 / yard, but I'm just estimating the cut here.
Silk Threads
6 spools Soie de Paris (1 each of pink, white, green; 3 red): $24
1 spool Soie 100/3: $3.30
3 spools Soie Ovale: $7.50
14 (approx) 5-meter skeins Soie d'Alger: $60.20
Metal Threads
1 spool Elizabethan Twist (2%): $19.00
1 spool Check Thread: $13.50
2 spools Tambour Thread: $19.00
5 (1/2 yard ea.) Bright Check Purl: $22.50
1 yd lizardine: $10.50
1 yd pearl purl #2: $11.50
1 yd pearl purl #1: $10.00
3 (1 yd lengths) pearl purl very fine: $19.50
18k gold Japanese thread ($125 for the hank – used about 1/4): approx. $30
Grecian Twist (medium): $9.50
Total: $280
The total does not include the shipping on supplies ordered, the cost of needles (specifically ordered for this project), or various miscellaneous supplies (silk thread for couching gold, beeswax, wheat starch, pounce, vellum, drafting paper, etc.).
So that's the Material Cost of the Medallion Project.
And now that we've covered that question, this is where the whole discussion separates into various lines of consideration.
For now, though, I've outworn my welcome! Time to cover up those supplies and take a break!
Do you have any particular thoughts or questions on the subject of expense? Do you think $280 in materials for this project is extravagant? Are you surprised at the cost – did you expect it to be more, or to be less? I'd love to hear your take! Have your say below!