When it comes to threads, we all know the name DMC. It's the most widely available embroidery thread in the US, and perhaps in the world. You can find it everywhere, from the big box stores to the local needlework shops. Most kits and charts written today, if they don't actually contain DMC thread, have the conversion options for DMC thread. The company's been around for ages, and although it has gone through ownership changes over the years, the name and the threads are still around.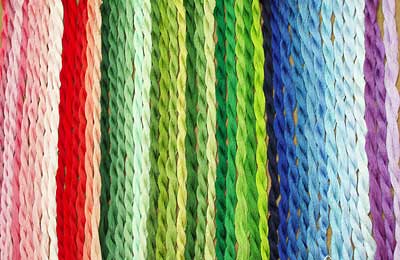 The DMC Threads I Love
I use DMC threads often. I have two favorite DMC threads: floche and coton a broder #25 (also called "special embroidery cotton, DMC 107"). I use these two threads for monogramming, especially, but also for other surface embroidery. Neither thread is as easy to come by as DMC floss (stranded cotton) or perle cotton in the various sizes.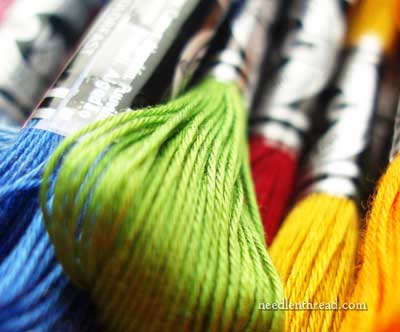 You have to look for floche and coton a broder in specialty shops. Here in Kansas, no one carries them, so I order both of them online through Vaune, which is a shop primarily devoted to smocking.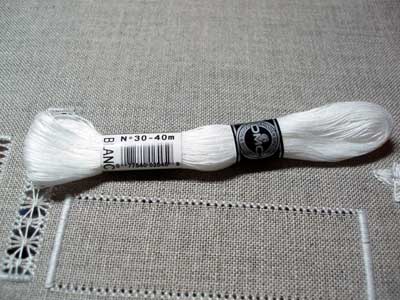 When it comes to whitework embroidery, DMC's coton a broder in sizes 16 through 30 are my go-to threads. They're wonderful threads for whitework! They used to be available in sizes 12 – 40 (and even higher, years ago), but the line has been reduced, and size 12 and higher sizes (35 and 40) are apparently extinct.
How & Why I Use DMC Threads
DMC is a reliable cotton embroidery thread. I use the threads mentioned above, plus I have a good supply of floss and perle cotton that I use for teaching children, for stitch samples, and for making how-to embroidery videos. One definite advantage to using DMC (or Anchor – I like Anchor, too, but it's harder to find in the US) over over-dyed, hand-dyed, and other cottons is that they are pretty much colorfast. You're less likely to run into problems with colors bleeding with these threads. The other advantage to DMC is, of course, its wide availability and the fact that it's relatively inexpensive.
How DMC Threads Are Made
If you'd like to see how DMC threads are made, you can hop over to the DMC blog. There's a nice article there with photos, finishing with the following video on making DMC thread. (The video has the option for sharing, so don't worry – I'm not violating any copyright. If they didn't want it shared, they'd turn that feature off…)
Newsletter Readers: You can view the video here in today's article on Needle 'n Thread, since it won't show up in your newsletter!
Recent Speculations about DMC Threads
Incidentally, I believe the made-in-France "campaign" DMC is currently using to promote their threads (not their other products, like accessories, fabrics, and tools – these are a Whole Nuther Story) is in response to the speculation going on in the US needlework world about a decline in quality of DMC's threads in recent years.
I've heard many designers, instructors, and long time stitchers complain about an apparent decline in quality in the threads. There have been rumors circulating regarding whether or not DMC outsources their threads. Some folks wonder if the threads sold on the US market are the same as those sold in France, for example. Apparently, one reason for this speculation is that there's a major price difference between DMC in France & Europe and DMC in the US – the cotton floss is much less expensive here in the US. Evidently, this seems odd, considering the threads are made in France and to get them to the US, there's the whole question of currency conversion and import fees and so forth. Admittedly, I'm thankful that the thread is so affordable here – I use hundreds of skeins a year in samples for the website and while working with kids. It would be problematic, budget-wise, to use a more expensive thread for this type of stitching.
Other folks have suggested that perhaps the thread sold in US "big box" stores is different from the thread sold in local needlework shops in the US – a scenario that's pretty highly improbable.
Perhaps one of the reasons the rumor of outsourcing DMC threads and products is a prevalent one is this history of DMC through the end of the 1990's. At the end of the article, there's this interesting line regarding the restructuring of the company in the mid-90's:
The company also took steps to move the bulk of its production to the Asian, African, and eastern European markets to take advantage of lower wage costs, while maintaining only high valued-added operations in western Europe.
This doesn't necessarily mean that their threads were all outsourced, but you can see how such rumors could have a damaging effect on the trust and confidence that people put in DMC threads.
Increasing Interest in the Quality of Needlework Products
So it seems that right now, to counteract such speculation in the US market, DMC is "marketing" the roots of the company and promoting the "made in France" aspect of their threads.
I think what "big" needlework businesses are doing to market their products is interesting to watch, because, in a sense, it reflects what's going on in the wider world of needlework in general. The move to generate interest in DMC's roots and how their threads are made is a reflection, I think, of the growing demand by needleworkers to know where their products come from and to be assured of the quality of the products they purchase. This is a healthy sign for the fine needlework industry. I think it's a positive indication that we are becoming more and more interested in acquiring quality products from quality sources, because this means that we understand better and appreciate more, the value of our needlework.
What's your take? Any thoughts? Do you use DMC threads? Are you a die-hard fan of DMC's thread? Do you have other cotton threads you prefer to DMC? Do you have any thoughts on DMC's recent emphasis on their company's roots? Do you think it helps boost trust in the continuity and quality of the company's products? I'd love to hear your thoughts – have your say below!