No, no. We're not talking about stitching with mirrors involved – as in Shisha embroidery (though I do have a Stitch Play coming up on that!). Here, I'm using "mirror" as a verb.
Today, I'm suggesting that you play around with your stitches by mirroring them. That is, work them opposite each other.
Mirroring a row of embroidery stitches is a good way to create an interesting border or heavy line. In the photo above, for example, I've mirrored two lines of Mountmellick stitch, keeping the "spines" of the stitch lines in the center and the "spokes" pointing outwards.
I've done the same thing in the photo above with Pekinese stitch, keeping the trimmer parts of the loops to the inside and the fuller to the outside.
Any buttonhole variation works well this way. The stitch above is basque stitch, a stitch that combines a kind of upside-down buttonhole with twisted chain stitch.
When you mirror your stitch lines, you can leave the channel between them blank, or you can fill it up with other stitches. In the photo above, I've used basque stitch, mirrored, and worked a line of running stitch up the middle.
Up and down buttonhole is another stitch that mirrors well. There's some nice space between those two lines for further embellishment. French knots, for example, would look really good tucked in between the "scallops" formed by the up and down buttonhole.
Don't forget plain old buttonhole stitch!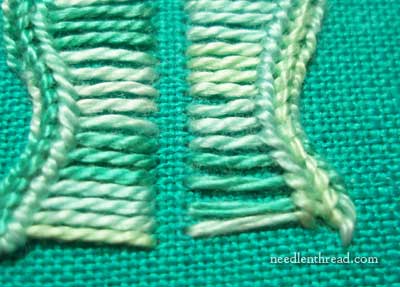 Here, the mirror is done opposite, with the "teeth" of the buttonhole combs pointing towards each other. The buttonhole stitch has been whipped, to add more bulk (and a pretty effect, I think!) on the "spine" part of the stitch.
Mirrored stitches aren't restricted to obvious line stitches. Here's an example of a row of horizontal fly stitches, mirrored so that the anchor stitches are touching where the lines come together. The line that forms has pointed tips to the outside. (You could add some knots in there, to dress up the line a little more.) And you can mirror the same stitch, only in a different part of the stitch, and achieve a different look:
Above, you can see two lines of the same horizontal fly stitch coming together where each stitch begins and ends. The tips are rounded now, not pointed. But it's the same stitch.
So, here's a suggestion for some Stitch Play: try mirroring your lines! See what kind of interesting effects you can create. Use the mirrored lines as a base for further embellishment, too, by adding running stitch, knots, or other little stitch elements to your mirrored lines.
Go ahead and try it! It's Fun Stuff!!
Stitch Play is a new series on Needle 'n Thread, in which we explore different stitches, techniques, and combinations in photo tutorials. If you have a stitch or technique you'd like to see worked out in Stitch Play, feel free to leave a comment below and let me know! I'll see if I can work something up for you!